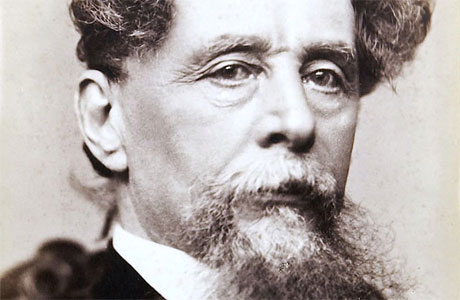 It is commonly assumed that the cocktail, as we know it, is an American invention, although as recently as December last year this idea was called into question by the Telegraph, who found a British citation for the term that pre-dates any American equivalent.
In any case, it's not the idea of mixing spirits that is the true innovation with cocktails, it's all the other stuff: how you mix the bits together, whether there is ice involved, or fruit wiped on the lip of the glass, what amount of what goes with how many fingers of the other.
And really, a good portion of the leg work in popularizing mixed drinks happened in the States. For example, when Charles Dickens came over to America in 1842, he was delighted to be treated, in a Boston bar, to an array of these newfangled mixed drinks, with strange names like "the Gin-sling, Cocktail, Sangaree, Mint Julep, Sherry-cobbler, Timber Doodle, and other rare drinks." (quote from his American Notes for General Circulation.)
No stranger to London and its bars – in which the two principal drinks were beer (a far more hygienic drink than the local water, not least because the brewing process part-sterilized the water) and gin (ditto, although it was drunk in the same kind of quantities as beer, which caused a lot of problems), he partook most vigorously and with gusto. But what will he have been drinking? What's actually in those drinks and can we still make them today?
Well for starters there's the Cock Tail itself, a moveable feast of a drink, in which refined sugar (or syrup) is mixed with rye whiskey (or rum, or brandy, or gin, it's up to you), water, bitters, and sprinkled with ground nutmeg.
(You can find a full recipe at Four Pounds Flour)
Then there's the Sangaree, a drink with as many forebears as it has recipes, and one clear descendent in the form of sangria. Essentially, you're making a punch with strong Madeira wine, so it is red, hence the name, deriving from sangre, which is Spanish for blood.
(You can find a recipe here, at The Cocktail Chronicles)
If you really want to get in with the In-Crowd, you'll have needed to order a Sherry Cobbler, the drink without which no one would now be sucking up sodas with a straw.
And, may I say, after years of "British teeth" gags, it was the rotten and sensitive state of AMERICAN teeth that was the catalyst for this new innovation in liquid sucking technology.
Where were we? Oh yes! The Timber Doodle! How could any wordsmith, no matter how intoxicated, fail to fall in love with such an extravagantly-title form of liquid refreshment? And do you know what really, really hurts?
No one – not even Charles flipping Dickens, man of letters — thought, in all of that cheering and raising of glasses to lips, to write this one down. It could be the finest cocktail mankind has ever devised, with, let's face it, the finest name, and we would have no idea.
Finally, let's end with something extravagant, and unrecorded by Dickens: an Apple Toddy.
Captain J. E. Alexander, an English military man enjoying an American excursion in 1933, took the time to write down, in his memoir Transatlantic Travels, a few recipes for these new and exciting drinks he was being offered, and the one for the Apple Toddy is rather involved.
Essentially you take some nice apples, and bake them in the embers of the fire, using wet brown paper. Then spoon the heated pulp into a glass and mix with sugar, water and brandy and garnish once again with nutmeg (or the scrapings from a sugar spoon).
(Once again, Four Pounds Flour has the inside skinny.)
See some classic 19th century American cocktails via Gothamist.
And if this has whetted your appetite for a sharp taste of Victorian life, Copper, which depicts life in 1860s NYC, is back on BBC AMERICA this Sunday (June 23) at 10pm/9c. 
Read More
Filed Under: