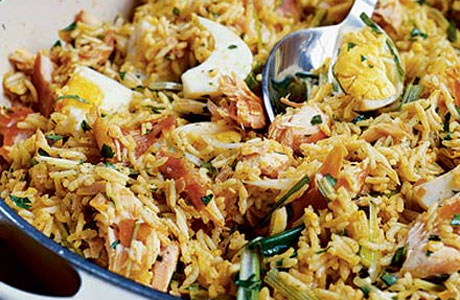 I don't know how you're planning to celebrate the return of Ripper Street to BBC AMERICA on Wednesday, April 29, but I'm thinking of having an all-day Victorian pig-out. Who's with me?
The rules are pretty simple, all you need to do is eat Victorian recipes all day long, and by the time the credits roll, you'll be as one with the 1800s.
Naturally, as the era was defined by an English Queen, the food should be English too, so here are five recipes to get your gastronomic dalliances off to a swinging start.
Let's kick things off with a little drink, shall we?
How about the very popular Gin and French:
Note: this is by some distance the easiest recipe of the lot.
Ingredients:
Equal amounts of gin and Lillet blanc vermouth.
Method:
Put the gin and Lillet in a mixing glass with a handful of ice and stir.
Strain into a margarita glass and garnish with a lemon twist.
Now who's hungry? Let's have a hearty breakfast of fish, and eggs, and curry and… wait, where are you going?
Kedgeree
And for luncheon, how about…
Mincemeat Pies
Note: These isn't the mincemeat that you would find in mince pies, this is actual meat that has been minced. Steak, no less. But there's a lot of extra stuff in there, including apples, nutmeg, oranges, brandy AND port. 
Get the recipe from BBC Food
Time for a hearty evening meal. Victorians tended to sit down to eat at around 9 p.m., so those pies will have had a lot of time to go down. Which is just as well, as this next one might have brought them back up again.
Boiled Calves Head
And for dessert:
Apple Batter Pudding
In which two Bramley apples are cored and baked in a spicy, ginger-cinnamon batter. This was very much the Pop Tarts of the Victorian era, only less toaster-ready.
Get the recipe from Cook It!
Then you have just enough time to dress for dinner, enjoy a healthy repast and switch on your electronic entertainment device.
Read More
Filed Under: