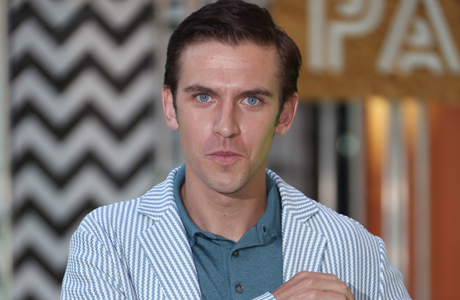 New episodes of Downton Abbey won't air until September in the U.K. and, program your DVR now, January in the U.S. but the show and its cast members are still making news.
Few actual plot developments for Season Four of the popular period drama are being leaked, but Downton's stars, both past and present, have been out and about and talking up a storm.
Here's a short round-up of recent Downton-related news:
·      Dan Stevens, the blue-eyed dreamboat who played Matthew Crawley before the character's lamented demise in a car crash at the end of Season Three, announced a week ago on BBC's The Graham Norton Show that he had diminished, literally, since leaving the show. "I've lost about 30 pounds since New Year, which, in British terms, is about two or three chins," he joked.  He lost the weight for a role as a bad guy in A Walk Among the Tombstones, a film currently shooting in New York in which he costars with Irishman Liam Neeson.
·      Hugh Bonneville, who plays Lord Robert Crawley on the series, is negotiating to star in a live action film about Paddington Bear, the popular ursine hero of more than 20 children's books (by British author Michael Bond and illustrator Peggy Fortnum). According to a report in The Wrap, an industry web site, Bonneville would portray the head of the family that adopts the friendly bear after it turns up at London's Paddington Station. The film is scheduled to begin shooting this fall.
·      Allen Leech, who portrays chauffer-turned-son-in-law Tom Branson on Downton, joked to the Daily Star that he and the other actors on the show live in fear that their characters will be killed off following the deaths last season of Lady Sybil Crawley (played by Jessica Brown Findlay) and Matthew Crawley. "Everyone does one thing when they get their scripts: makes sure their name is still in it at the end to make sure they're still alive. Only then do you start reading it properly," he said. "I think everyone worries they could be written out. [The producers and writers have] got to keep it exciting and dramatic. It's a drama at the end of the day."
·      There was a mini-Downton Abbey reunion at Hyde Bark, a charity dog show held in London's Hyde Park on Sunday (June 9), as cast members Jim Carter (who plays butler Mr. Carson), Lesley Nichol (who plays cook Mrs. Patmore) and Peter Egan (who guest starred as Crawley family relative Hugh "Shrimpie" MacClare in Season Three's final episode) served as celebrity judges. Other bold fast names joining the Downton crew included actress Imelda Staunton (she's married to Carter), comic Ricky Gervais and Call the Midwife's Helen George. "It was amazing to meet all the dogs entering the show and my own two dogs enjoyed all the fantastic canine fun and games," George said, according to a report on the event in the Brent & Kilburn Times.
·      And, in the biggest Downton non-story of last week, there was a flurry of excitement after an initial report in The Guardian saying that Hugh Bonneville was hoping to convince members of the Rolling Stones to make a cameo appearance in Downton's season-ending Christmas special this year. There was speculation that the band members could show up as down-and-out entertainers playing at Downton Abbey. Then the site Gossip Cop spoiled all the fun by actually ringing up a representative for the Stones and asking if there was any truth to the Downton conjecture. Nada, said the rep, adding that she hadn't "heard any rumors" about an actual guest spot. It appears that fans of both Downton and the Rolling Stones won't get no satisfaction.
Are you counting the months until Downton Abbey comes back on TV?
Read More
Filed Under: