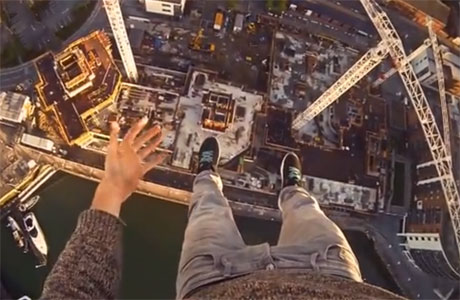 OK, if you're going to come along with us on this particular viral ride, can I ask you to schedule your viewing so that it does not occur during an immediate post-mealtime moment in your day? And in fact, if you're at all nervous about heights or falling or falling from heights, maybe you'll just want to keep well away from the whole thing, because it won't help.
This is a very popular viral video, posted only 12 days ago, in which British freerunner, parkour fanatic and all-round daredevil (trans: idiot) James Kingston climbs up a 250 foot crane in Southampton docks, walks along that top beam bit, and then lowers himself down so that he's hanging on by just his hands, with no means of stopping himself from hurtling to the ground. Oh did I say hands plural? He also dangles by just the one hand, filming all the while, naturally:
As I say, please don't watch it. I did, and I think I'm going to struggle to stand up for the next hour or so.
Note: we have no idea as to James's qualifications as a hanger-offer of things, but let's assume he's a trained professional of some standing. Don't try and do stuff like this yourself, it's only cool if you don't die and even then, it's silly.
Or to put it another way: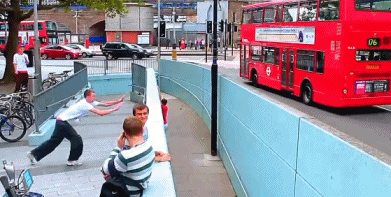 Read More
Filed Under: