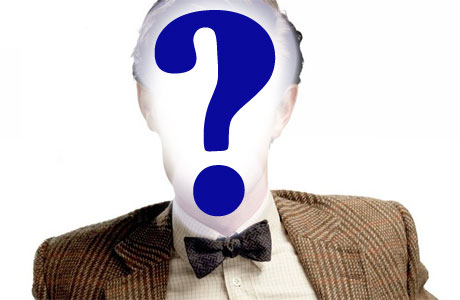 The stretch of time between the announcement of a retiring Doctor Who actor and that of their replacement is a fevered one indeed. Every possible human entertainer with a face is examined by fans as a potential new Time Lord, then given the imaginary walkaround and twirlabout in a fanciful frock coat, and set to virtually run down a make-believe metal corridor to see if they leave the right kind of Gallifreyan chaos in their wake.
That's what the past week has been like. Some truly bizarre names have already been thrown out there, including Tom Cruise and Simon Cowell. Then, over the weekend, two rumors erupted over the internet, the first claiming it was a three-way tie between Domhnall Gleeson, Daniel Kaluuya and Dominic Cooper, the second claiming Rory Kinnear had definitely got the job.
Samuel West threw his hat into the ring, claiming he had always wanted to play the Doctor, "and Hamlet. And I've done Hamlet."
Radio Times had a poll, which Colin Morgan won.
And Neil Gaiman has expressed a wish that the next Doctor should not be an actor we're already familiar with.
Meanwhile, Steven Moffat is quoted in the Radio Times as saying, "I haven't a clue who it is, we've barely started."
Which seems definitive enough for now. So here's what else is going on in space and time this week:
• We chatted with Arthur Darvill last week in New York where's he's taken on the lead in the Broadway musical Once. We, of course, got his reaction to news that his friend and former co-star Matt Smith would be hanging up his bowtie at the end of the year. And he reveals his thoughts on who should inhabit the TARDIS next. Watch it here.
• Did you see Arthur singing a number from Once at the Tony Awards ceremony last night (where he was also a presenter)? Amazing. Here's the abbreviated (but up close) version that aired in the CBS broadcast:
http://www.youtube.com/watch?feature=player_embedded&v=rqkj_sv1ta4
Here's an audience-eye view of the full performance:
Arthur tweeted this tonsil-exposing Vine of him warming up prior to the show. Make sure you're hearing the audio to get the full effect (but adjust your volume down):
A slightly worried warm up on the way to radio city music hall. https://t.co/yahd9pfevc

— Arthur Darvill (@RattyBurvil) June 10, 2013
• Speaking of fanciful casting decisions, SFX has an astonishing collection of Doctor Who events that nearly happened but didn't, including the offer of a part to David Bowie in the early '80s.
• Buzzfeed offered eleven things that the Eleventh Doctor made cool, including this:
(Source: theworld-will-be-watching.tumblr.com)
• Buzzfeed also offers twelve reasons why Benedict Cumberbatch should be the next Doctor.
• The BBC's current affairs show Newsnight has been assessing the impact of Doctor Who in the 1980s, with particular regard to the special effects, the contributions of the show's directors, and an interview with Seventh Doctor Sylvester McCoy:
• According to the Mirror, the Queen (or at least, someone in the Royal household) is a Whovian! The complete Doctor Who has been sent up to Balmoral for the Royal Family's summer holiday viewing.
• Hats to a permanently off position for Meghan Murphy, who drew this delightful gallery of Daleks cosplaying as each of the eleven Doctors. Here's Dalek Five:
• Whovians pester a Matt Smith-lookalike, working in a grocery story in Edmonton, Canada.
• Whovians are running a Kickstarter project to put a 1ft tall model of the TARDIS into actual Earth orbit.
• The Record has an account of the entire library of Doctor Who books, as it currently stands.
• Let's go out with a song. Here's a Commodore 64 version of the Who theme, beautifully arranged by Aizerowe. 
TTFN!
Read More