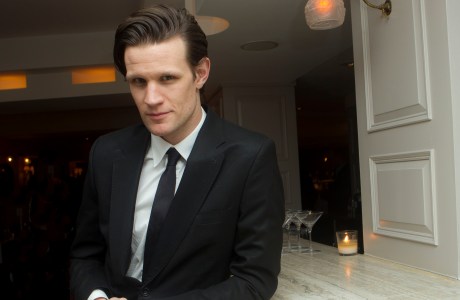 So, there's really only one story this week. The sad news that Matt Smith will be hanging up his fez, loosening his bow tie and putting his screwdriver back in his sonic toolbox after the 50th anniversary and this year's Christmas special. The era of the Eleventh Doctor is coming to an end.
In a statement, Matt thanked Steven Moffat, the scriptwriters, and most of all you, the Whovians, saying: "The fans of Doctor Who around the world are unlike any other; they dress up, shout louder, know more about the history of the show (and speculate more about the future of the show) in a way that I've never seen before, your dedication is truly remarkable. Thank you so very much for supporting my incarnation of the Time Lord, number Eleven."
And in return, Steven praised Matt's ability to act as if he really did come from another planet: "Every day, on every episode, in every set of rushes, Matt Smith surprised me: the way he'd turn a line, or spin on his heels, or make something funny, or out of nowhere make me cry, I just never knew what was coming next. The Doctor can be clown and hero, often at the same time, and Matt rose to both challenges magnificently."
For her part, Jenna Coleman was quick to praise Matt as an actor and a Doctor, saying: "I feel so privileged to have been part of Matt's reign, to have to been companion to what is and what I think always will be one of our greatest Doctors."
Naturally, this has left everyone with a burning question in their mind. Who should play the Doctor next? Everyone from Olivia Colman to Sean Pertwee to Russell Tovey to Simon Pegg to Idris Elba to Dame Helen Mirren is in the frame (the Radio Times has a vote that contains 25 names). And while the show does have a habit of going for less well-known actors, it's clear that if you're looking to cast an alien being that can look like anyone, that's a pretty big net to throw out.
Steven Moffat summed up the situation, as it stands, when he remarked, "Somewhere out there… is someone who's about to become the Doctor."
One of the things Matt is clearly keen to try next is directing, after his first stint behind the lens on Cargese. He told the Telegraph: "I'd like to direct a science-fiction film, too. Kubrick's the man to follow: a film in every genre."
In honor of Matt Smith's run as the Doctor, iTunes is giving away his premiere episode "The Eleventh Hour" for free and providing season discounts on Seasons 5 through 7 until June 11.
Here's what else is going on in space and time this week:
• May 31 was River Song Day, a time of celebration, probably with sweeties, and things that do not spoil. And this wondrous YouTube playlist:
• If you're not feeling too wretched over the whole upheaval thing, here's something that will probably tip you over the edge. Buzzfeed's Eleven Gorgeous, Poignant Pieces of Doctor Who Fan Art.
If you're planning a trip to the Doctor Who Experience soon, you'll be glad to know there are some new additions from the latter half of series seven. Most notably Grand Marshal Skaldak, some of the most recent Cybermen, and Mr Sweet.
• David Tennant's performance in Shakespeare's Richard II is set to be broadcast to cinemas worldwide. Here's a short interview about his return to the Royal Shakespeare Company:
• Karen Gillan is set to star in the latest movie adaptation of a Marvel comic: Guardians of the Galaxy. Her role hasn't been fully revealed as yet, except we know she's a baddy.
• Who wants to see Jenna Coleman on the Nerdist podcast? Yeah, thought so:
• Here's a lovely Bernard Cribbins interview, in which he discusses filming the 1960s Doctor Who movie Daleks: Invasion Earth 2150 AD, and having birdwatching competitions with Peter Cushing (who played the Doctor).
• i09 has Doctor Who front and center when discussing the longest running gags in sci-fi history.
• Which evil genius came up with fluffy Weeping Angels toys that actually ask you to touch them?
Let's end with something stupendous. The collection of Whovian clips projected onto Custom House in Sydney, Australia, over the weekend, as part of their 50th anniversary celebrations:
http://www.youtube.com/watch?feature=player_embedded&v=rXXhEA001e4
TTFN!
Read More
Filed Under: