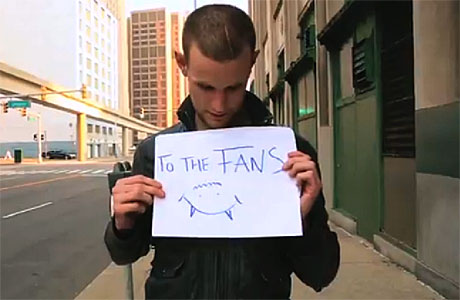 It's that time of the week again, and, really, the biggest and loveliest thing that has happened in the Whoniverse over the last seven days is this beautiful little video from Matt Smith.
Kinda gets you right HERE, doesn't it?
Here's what else is going on in space and time this week:
BBC AMERICA has released their extended trailer for Broadchurch, the buzzy new "whodunit?" drama that held all of Britain in its thrall for months. And it just happens to star Tenth Doctor David Tennant and was created by frequent Who scripter Chris Chibnall. The drama hits Wednesday, August 7:
• You all know that the new Doctor probably won't be announced until fall, yes?
• Speaking of which, Daniel Radcliffe appears to be entirely nonplussed by any lingering rumors linking him with the job of the Doctor.
• New York Whovians! There's a showing of the Fifth Doctor's final adventure, "The Caves of Androzani" at the Paley Center on June 29, and there will be a costume competition and prizes will be awarded.
And if you can't get to New York, how about San Francisco, Los Angeles, Austin or Houston?
• Radio Times notes the dropping of "Louise" from Jenna Coleman's name for all future acting work.
• And that includes Coleman's role in Death Comes to Pemberley, an adaptation of PD James' novel that picks up Pride and Prejudice a bit after Jane Austen left off. In it, Matthew Rhys plays Darcy to Anna Maxwell Martin's Elizabeth Bennet, and Coleman plays Elizabeth's sister Lydia.
• There's a new Doctor Who ebook out, and as it's the sixth month, it's the turn of the Sixth, who visits a Vegas-style planet in Something Borrowed. Richelle Mead, who wrote it, explains her inspiration in this video clip:
• And there's a really good audio summation of the Sixth Doctor from Colin Baker – the Sixth Doctor himself – over on the Doctor Who website.
• And the Radio Times is also celebrating it's 90th birthday this year, with a special exhibition at the Museum of London, from August 2 to November 3. And guess which time-traveling Gallifreyan is getting a special room all to his lonesome? Oh, you guessed.
• Fancy a cuppa? Matt Smith is auctioning off a tea date, at the Ritz in London, for charity.
• This via Kitchen Overlord. What do you do when your Hawaiian rolls go weird? Make them Oodiful:
• Yes, Den of Geek, what IF the Doctor was Batman?
• The TARDIS is receiving a royal visit, as Prince Charles and the Duchess of Cornwall are popping by the BBC studios in Cardiff.
• Why your dinosaurs are about to be killed by Daleks, and other problems of historial accuracy when portraying prehistoric beasties.
• A father and son team in Salisbury built their own TARDIS, because they wanted to.
• And while we're on parents. Who's this little lad – stuck in Great Ormond Street hospital awaiting a heart transplant – having a nice chat with?
• Terry Nation, without whom there would be no Daleks, may be the posthumous recipient of a blue plaque, on the house in Cardiff where he grew up. And should the current owners give the go-ahead, you'll never guess the date of the unveiling… oh, you guessed that as well.
• Doctor Who comic book The Prisoner of Time gets a glowing write-up from Kasterborous.
• What Culture pay tribute to The Eleventh Doctor's best understated moments.
And while we're thinking about recent events, how about we go out on a montage of Clara and the Eleventh Doctor, that puts all of her dealings with him into context? Rightyouare:
TTFN!
Read More
Filed Under: