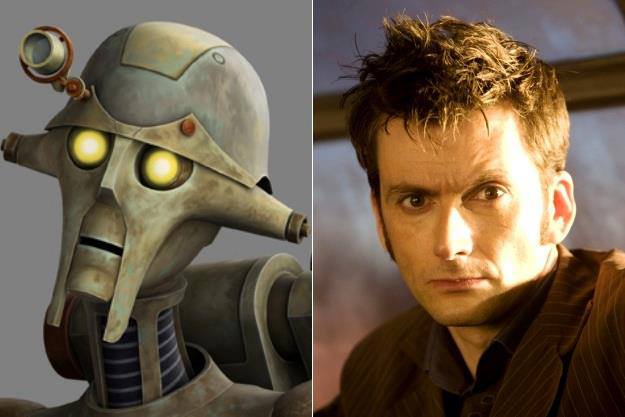 • Congratulations are in order: David Tennant won an Emmy this past Friday (June 14) for his voicing Huyang the droid in the animated series Star War: The Clone Wars.
(Note: he isn't the first Emmy winner among the Doctors, as Christopher Eccleston won an International Emmy in 2011 for Accused.)
• Did you see Karen Gillan in the trailer for her new movie Not Another Happy Ending?
• She's interviewed in the Scottish Herald, talking about the movie, and offers this thought about the lack of Daleks in her jobs these days: "I do actually really miss them. There's nothing more fun than running away from a monster … that you can't actually see at the time."
• The Doctor Who website has devoted an entire area to the shenanigans of the Master.
• Sunday was Father's Day, so we pulled together some of the best Dads of Doctor Who. And then had a few misty moments finding appropriate clips.
• Doctor Who for math nerds:
• Meanwhile, WhatCulture are running a feature on the Eleventh Doctor's most impressive speeches.
• io9 has a list of science fiction-themed restaurants, and naturally there's a Doctor Who one.
• Time for a song — albeit one you have to make yourselves. How about the Who theme, arranged for a brass quintet?
• BBC News has a nice interview with Katy Manning — the former Jo Grant — about filming the (now newly-restored) The Mind of Evil at Dover Castle in Kent.
• Are you in New York City tonight (June 18th)? Got a free evening and a head full of Whovian nonsense? Head on over to Highland Park for the Doctor Who trivia night, and pronto!
• Colin Baker (the Sixth Doctor) and Daphne Ashbrook (Grace Holloway) were a hit at Denver Comic-Con last week. Daphne even started their section with an a capella song or two (although not the Who theme, which is probably a blessing).
• The National Space Centre has dedicated this year's annual unofficial Lego-fest Brickish Weekend to Doctor Who. There will almost definitely be a run on the blue bricks.
• Let's end with a couple of those fan-made compilation videos that looks back over recent history. They always give us goosebumps. First, the Eleventh Doctor years:
http://www.youtube.com/watch?v=ExDD3Mg94BQ
• Second, a sort of 'where are we headed next?' mash-up:
• And finally, the whole damn shooting match:
http://www.youtube.com/watch?v=Ei7QaBmiiFM
TTFN!
Read More
Filed Under: