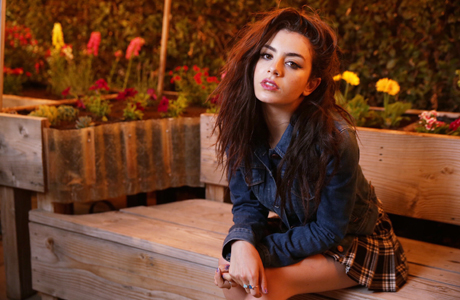 In a very short period of time, 20-year-old Brit Charli XCX has become a proper pop star and a sought-after songwriter-for-hire here in the U.S., based on the massive success of "I Love It," the brash, infectiously rabble-rousing statement of independence she wrote for the Swedish dance duo Icona Pop. Her distinctive vocals are featured on the track, which includes the memorable line "You're from the '70s, but I'm a '90s bitch!" — a rallying cry for millennials. Beyond your local top 40 radio stations, you can hear the song at present in reruns of HBO's Girls, as the theme tune to MTV's Snooki and JWoww, and as a soundtrack to a Shoedazzle commercial.
"Generally, this song for me is paying my bills," she says of the hit's omnipresence. "All of the placements so far have been really relevant. And really this song for me is about starting my career as a writer for other artists as well, and that's definitely what it's done. And it's really cool to see the song blow up and to hear my voice on it as well." She mentions Katy Perry and Gwen Stefani as stars she'd like to write for, adding that "I do like the idea of writing top 40 stuff for other people, just because I feel like I'm not a top 40 kind of person. But I'd like to see my input on things without having to go and live that life. I like making my weird pop records."
You can hear those "weird pop records" on Charli's debut solo album True Romance, a danceable collection of dark but catchy tunes. Filled with dubstep growl, well-chosen samples, chirpy '80s synths, and sexually charged vocals delivered with hip-hop attitude (she raps occasionally), her sound could best be described as Marina and the Diamonds (a friend and touring partner) with The Knife as a backing band. Charli is unabashed in her love for '80s pop queens like Belinda Carlisle and Martika, and you can hear their melodic echoes on songs like "Stay Away" and "You're the One." The highlight is "What I Like," a swaying, laidback jam that you could easily hear Rihanna riding to the top of the charts.
Why have the Americans embraced the Hertfordshire, England-born artist more than her fellow Brits? "I'm not really sure. I feel like America's such a big place, and Britain can be quite snobby when it comes to music. Like audiences sometimes in the U.K. have to be told what to like and told whether something's cool. Myself, I don't really get a lot of radio [airplay] in the U.K., which I'm fine with because I have a good fanbase anyway. Whereas in the U.S., I feel like everybody's a little more comfortable in what they like and don't feel like they have to be told [what's cool] by a taste maker.
"I also feel like there are a lot more blogs in the U.S. than there are in the U.K., and I guess where I've mainly been at the level of a blog artist." She cities Popjustice in the U.K. and Gorilla vs Bear and Pitchfork here as her primary supporters. Pitchfork, of course, is the powerful indie music website whose writers can elevate an unknown to It status as well as shiv an up-and-coming artist in the gut with a nasty review. They've lavished her with praise and coverage, promoting True Romance in the Best New Music section. Asked about Pitchfork's impact in her rise stateside, she replies, "It's kinda cool. It's weird. I never thought I'd be considered a 'Pitchfork artist' because from day one, I've always wanted to make a pop record, not a 'hipster record.' I wanted to make a pop album. That's what I've done, but I've done it on my own terms. I don't dumb my music down just to make it top 40.
"But it's cool. Pitchfork, they have great taste. It's nice that they support me. I never expected it, though. But I'm happy with it."
Here are excerpts from my interview with Charli XCX at Atlantic Records office in New York last week. In the first clip, she opens up about struggles with record companies early in her career. Don't miss the second one, in which I asked her about the best moment in her favorite movie, the now-classic '90s Alicia Silverstone teen comedy Clueless. And she even acts out a key bit from the film:
Read More
Filed Under: