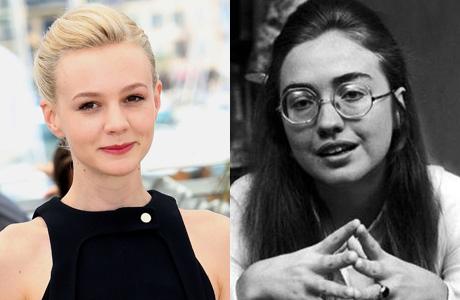 Carey Mulligan, 28, fresh off of Baz Luhrmann's The Great Gatsby, is being courted to star in the Hillary Rodham Clinton biopic, Rodham, reports The Hollywood Reporter.
No decision has been made but Mulligan is the front-runner ahead of American actresses like Scarlett Johansson, Reese Witherspoon and Emma Stone who have been thrown into the mix.
Rodham director James Ponsoldt told the UK Independent, "They're all wonderful actresses. We're very fortunate that a lot of really great actors are interested in playing these roles. We're in an enviable position."
The film will revolve around the formative years in Clinton's career as a lawyer and her introduction to her future husband Bill Clinton in 1974. The film is scheduled to come out in 2016 when Clinton may, or may not be, a presidential candidate.
Ponsoldt goes on describe the draw of Clinton's story, especially for those who might think it might be dry or lackluster, saying, "Regardless of people's political affiliation or how they feel about Hillary Clinton, you don't find people who question the quality of her intelligence or her drive. I want a wonderful actress who could embody that."
Writer Young il-Kim's script was prematurely released online last year and some people were under the impression it was pretty sexy. Mr. Kim told the Independent,"I didn't write 50 Shades of Rodham, as some news outlets are suggesting. I am a boring prude with little imagination."
Mulligan's next film is the Coen Brothers Inside Llewyn Davis with Oscar Issac (Llewyn Davis) and Justin Timberlake in a supporting role.
Update on June 12, 2013: Carey Mulligan has decided to pass on the role. After all that, it was just a bunch of "talk." Her representation stated she was not in a position to commit to the role at this moment.
Does it make sense for an American actress to take on the role? Or, does it not matter? 
Read More
Filed Under: