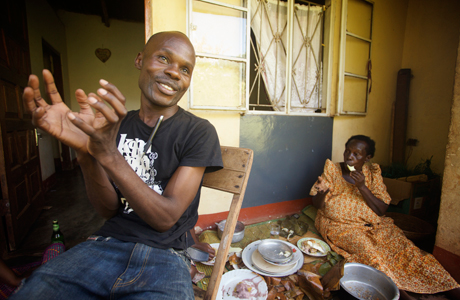 There may have been landmark Supreme Court rulings on gay marriage in the U.S., but for one British denizen of New York the focus has been on gay rights thousands of miles away in Africa.
Malika Zouhali-Worral's critically acclaimed documentary Call Me Kuchu — which she co-directed with Katherine Fairfax Wright — has been playing in cinemas in New York and Los Angeles.
What particularly impressed the filmmaker in her travels to Africa was that gay people weren't passive victims of discrimination in Uganda. They're fighting back. She says: "There really seemed to be an incredibly activist community in Uganda, and they were really working to try to change the situation for themselves."
Her film follows Uganda's gay activists as they work to defeat the country's Anti-Homosexuality Bill proposed by the government. Among the provisions in its original form was imposing the death penalty for HIV-positive gay men.
One of the key characters in Call Me Kuchu is David Kato who was one of the most outspoken gay activists in Uganda and is widely described as country's first openly gay man.
"David was actually murdered about a year into our filming, so the film ended up essentially being a document of the last year in his life," says the director.
His murder in January 2011 took place after a local newspaper published photographs of individuals it claimed were gay — including David Kato — with a headline that read "Hang them."
Malika Zouhali-Worral thinks her film makes audiences reevaluate the roots of homophobia in Uganda. "People seem to be genuinely surprised it's not necessarily a result of Uganda being a backwards African country." She believes that American conservative evangelicals have played a role in fomenting anti-gay bigotry. That view is explored in her film — as it is in another documentary, God Loves Uganda, which had a New York premiere this week.
Call Me Kuchu is a powerful film — and for exuberant gay Americans celebrating their forward strides in the past few days it will make for very sobering viewing.
Read More
Filed Under: