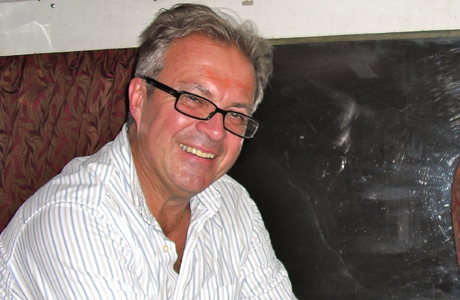 Mind the Gap, in association with Virgin Atlantic, will be highlighting British expats in the U.S. who are making notable contributions to their communities. Would you or someone you know make a fine British Expat of the Month? Submit your nomination in the form at the bottom of the piece.
Last year Los Angeles was captivated by the flyover of the Endeavour space shuttle, and its subsequent journey along the streets to the California ScienCenter attracted thousands of onlookers.
For Manchester-born Anthony Freeman, manager of the Innovation Foundry at NASA's Jet Propulsion Laboratory in Pasadena, the highly publicized demonstration showed how much people love the idea of space missions, if not the cost of them. The "Foundry" is a focal point for ideas at JPL, the United States' center for the exploration of the solar system, and they are working on around 40 projects at any one time.
"At the moment we have 18 operational [projects] in the solar system, others are in the planning stages, and some are being made ready for launch," he says. "In early 2014 we'll be sending up an orbiting carbon observatory, which will offer the most precise global glimpse of CO2 through the entire atmosphere. It's amazingly precise — 1 part per million — and will be able to look into climate change."
Freeman recently took up this post, but has been working at JPL since 1987. "I had gone to university in Manchester, got my B.A. in Maths and Ph.D in Astrophysics, and then worked in radar systems at Marconi for four years. But everyone knew that JPL was doing the greatest work, and after I had given a talk at a conference, my later-supervisor offered me an interview. I came out for that in 1986 but arrived to find a bad atmosphere: it was the week after Challenger disaster."
A long year passed before the paperwork was complete, though Freeman said that as soon as the offer was made he "jumped at the chance." Today he manages a staff of eight people who "facilitate things happening, rather than doing them, though sometimes I pursue a mission idea." This is a modest statement, as he has discovered the Freeman and Durden Model, the interaction of radar waves with the surface of planets including Earth; and the Freeman Method, how to recover those interactions when seen through the ionosphere. Both have been tested on past shuttle missions and other satellites carrying radar.
So if someone has an idea, say about a manned mission to Venus, Freeman's staff would assemble a small team and bring in experts who understand what's involved — the science and environment on Venus, the engineering requirements, what technologies would be needed, what hardware, etc. — to build the concept from "science to technology to mission design."
JPL also does public events using "crowd sourcing." The most recent one was a space apps challenge in which NASA provided online participants just 48 hours to solve a potential problem: how do you land a CubeSat — a miniature satellite the size of a box of Kleenex — on one of Mars' moons? "Teams from all over the world – schools, universities, space nuts – got together and traded ideas for a solution online," he says.
On arrival in Pasadena some 26 years ago, Freeman went straight into meetings and found the people great to work with. "Every day is different, and I work with some of brightest people in the planet," he says. "As time has gone on, we went from one mission at a time to lots of small missions with lots of people involved."
Settling into the U.S. lifestyle wasn't difficult for him — he even learned to play softball, he says — but his wife Phyllis, who was looking after their then one-year-old daughter, did find it hard to adjust: "We had been living in Essex, my wife had just quit teaching, and she found it very alien at first. Simple things like not knowing what the emergency services phone number is, that 7-Eleven isn't a supermarket, what brands to use — something that living in England was just ingrained in us."
As with new arrivals from the U.K. today, they also had trouble getting credit cards and loans: "We had to buy a car for cash from someone who worked here. It was the biggest civilian car built at that time – a huge 1970s station wagon."
They also noticed some differences between English people and Californians. "Californians were initially friendly," he says, "but it was hard to get past that barrier. With English people it's the opposite. They're reserved at first but then you're let into their lives. Also in California, people don't make their own jokes. Every Brit makes jokes and thinks they are hilarious, but Californians will repeat Leno or Conan O'Brien, rather than make jokes of their own."
Even though there are a "handful" of Brits at JPL too, Freeman says that didn't make a huge effort to "stay British" by joining a cricket club or going to the pub, though there was one Brit thing that has improved over the years: "I'm a Man Utd (Manchester United) fan, and you couldn't find any games when we first arrived — I missed the whole Cantona thing — but now I see more games than ever on Fox and ESPN."
He misses meat and potato pie and recommends the Ye Olde Kings Head in Santa Monica for decent fish and chips, and though he is a lager fan and is used to American beers: "When I was home last I had a pint of Abbot Ale – God it was so good! Room temperature, the right strength, bitterness and sweetness exactly right."
Traveling home is something that has changed a great deal for Freeman and his fellow JPL Brits: "When the kids are young you can't go back – you have school holidays and it's always expensive to fly then – but now we go back two or three times a year."
His daughter now lives in London too: "We sent her to the London College of Fashion and she stayed. My son though went to university in Boston and one winter there was enough for him. He came back and is now working his way up the ladder in Hollywood."
Like almost all California-based Brit expats Freeman, who lives in La Crescenta, loves that California sunshine. "The weather is so reliable," he says. "If you want a barbecue, it's pretty much guaranteed. Though, when I was in London recently it was just like winter, and I loved that – experiencing a season. For about a week."
In his down time he likes to watch Game of Thrones, go hiking with his son and travel with Phyllis. His JPL job offers him many opportunities to travel as well, as he often flies abroad "to strike partnerships with other space agencies in countries like Germany, France, Italy, Australia, Kuwait, Qatar, and the U.K. We did a mission with Argentina recently too." He adds that "all countries go through the same development in space exploration: a spy satellite, then a communications satellite — cell phones etc. — and then the next stage is science, because there's so much to explore. India will send a probe to Mars next year, and we engaged with them on communication and navigation, as we have technology to do that from Mars. We're a big community around the world, and we're both friends and rivals."
As for the future, Freeman says that JPL will "continue exploring the solar system" and that there will be another Mars Rover in 2014, though he thinks a manned mission to Mars is 30 years into the future and that interstellar mission and asteroid retrieval is "pretty out there." But he says, "It's my job to make great ideas go forward."
And if there was a transporter that could take him anywhere in the universe, where would he go? "Old Trafford," he replies.
Read More
Filed Under: