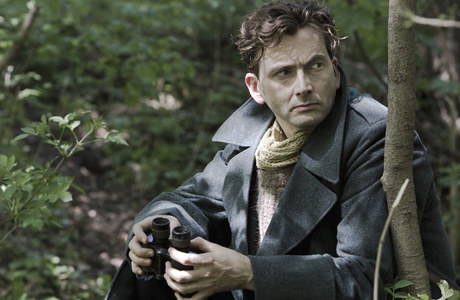 If you missed out on the BBC America premiere of David Tennant's miniseries, Spies of Warsaw, you can check it out on iTunes.com. What other British spy dramas are available online?
1. MI-5
No-nonsense head officer Harry Pearce (Peter Firth) leads a team of dedicated spies, known as MI-5, who risk their lives every day. A female agent was tortured with a deep fryer in the first season's second episode in attempt to collect classified information … to give you an idea of what to expect.

2. Danger Man
Special agent John Drake (Patrick McGoohan) travels the globe in a deadly game of espionage. Criminals hate him. Women adore him. Sound familiar? Drake is an undercover agent of the British external intelligence agency called M9, specializing in security assignments that pose a threat to the public.

3. The Scarlet Pimpernel
During the French Revolution, an elusive English nobleman known only as The Scarlet Pimpernel (Anthony Andrews), seems to always be in the right place at the right time saving French aristocrats from utter peril. He has a dual identity and poses as the dapper Sir Percy Blakeney in everyday life. Jane Seymour plays the heroine Marguerite St. Just. You'll recognize a much younger Ian McKellen as Chauvelin.
The Scarlet Pimpernel on Netflix. 
4. Wish Me Luck
Female civilians — including housewife Liz Grainger (Kate Buffery) and factory worker Matty Firman (Suzanna Hamilton)– are recruited by a secret organization known as "The Outfit".  The new undercover recruits undergo rigorous training like what to do if being caught by the enemy. The women's feminine ways come in handy as strategic tactics like "sabotage" and "subversion".

5. Foyle's War
During and after World War II, Detective Chief Superintendent Christopher Foyle (Michael Kitchen) goes beyond his police duties, fighting his own war on the homefront in investigating murder, unexplained "accidents", and espionage on the south coast of England.

What's on your watch list?
Read More
Filed Under: