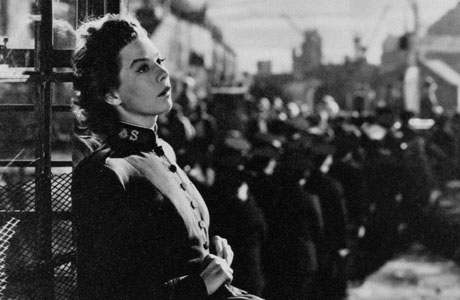 The Criterion Collection is a film organization that highlights cinematic pieces of work that have had major impacts on filmmaking. The Criterion has shared some of its choices with Hulu.com. You can host your own cinema party! Here's a peek at some of the classics available streaming online:
1. Major Barbara
Wendy Hiller stars in George Bernard Shaw's 1941 comedy which revolves around the character Barbara Undershaft. Undershaft is a Salvation Army officer who feels like she needs to speak up about the hypocrisy she's seeing at the Christian organization she works for. The cast is rounded out by Rex Harrison, Robert Newton and Deborah Kerr.

Watch Major Barabara on Hulu.com.
2. Forget Me Not
Zoltan Korda's romance story  was released in 1936. Italian tenor Beniamino Gigli is cast as an opera singer who falls in love with a British tourist played by Joan Gardner. The two marry but Gardner's character can't deal with the attention her husband receives from his adoring fans.

Watch Forget Me Not on Hulu.com.
3. The Lion Has Wings
This 1939 drama was made at the outbreak of WWII and comes across as a documentary-like film. The film uses actual newsreels, combined with original scenes, to tell the fictional story of senior Royal Air Force (RAF) officer (Ralph Richardson), his wife and his family. The film examines life in Britain and Germany at the time.
Watch The Lion Has Wings on Hulu.com.
4. Obsession
This 1949 crime film — based on Alec Coppel's novel A Man About a Dog — was released in the U.S. as The Hidden Room. The story centers around a jealous husband and the revenge he plans against his wife's lover. And, there's a dog, but we don't want to spoil the narrative for anyone.
5. Death Drums Along the River
Using the same characters as seen in Edgar Wallace's Sanders of the River, this 1963 adventure story features Richard Todd and Marianne Koch leading a cast of British, German and South African actors. The film was shot on location in South Africa, during British colonial rule, and revolves around suspected diamond smuggling.

Watch Death Drums Along the River on Hulu.com.
What's on your watch list?
Read More
Filed Under: