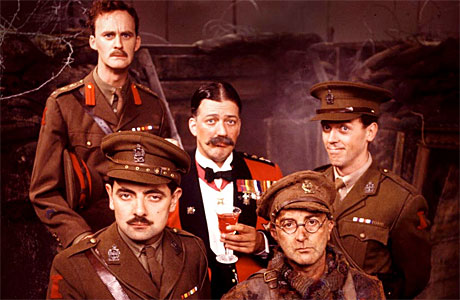 The Queen's Birthday Honours List was published on Friday, and among the 1,800 or so names, honours have been given to more than a few familiar names to Anglophenia readers.
For starters, Adele has been given an MBE, the same honor that was bestowed on the Beatles at the height of their international success. Interestingly, PJ Harvey has also been awarded an MBE, which could lead certain snoots to suggest that one award is for international sales and the other is for artistic acclaim, but that's probably nit-picking.
The TV comedy Blackadder has two honored performers, with Rowan Atkinson being awarded a CBE, and his cohort Tony Robinson (who played Baldrick) receiving a knighthood. The latter award, according to the citation, was given in recognition of a "lifetime of public and political service with a career as an actor, theatre director, children's author and television presenter."
Sir Tony told the BBC: "I'll use my new title with abandon to highlight the causes I believe in, particularly the importance of culture, the arts and heritage in our society, and the plight of the infirm elderly and their carers.
"I also pledge that from this day on I'll slaughter all unruly dragons, and rescue any damsels in distress who request my help."
Rowan's CBE is for services to drama and comedy.
Elsewhere, the comedian Rob Brydon (Uncle Bryn in Gavin & Stacey, among many other things) has been awarded the MBE, and there are OBEs for the BBC's sport commentator Clare Balding, golfer Paul Lawrie, and the novelists Jackie Collins and Kate Mosse, who said she was so excited to receive her nomination, she "actually jumped up and down!"
Thomas Heatherwick, the designer who created London's astonishing Olympic cauldron, was awarded the CBE. He's joined by Edward Barber and Jay Osgerby, who designed the relay torches that delivered the flame to the cauldron, and will receive OBEs.
Glossary: 
CBE – Commander of the Order of the British Empire
OBE – Officer of the Order of the British Empire
MBE – Member of the Order of the British Empire
Read More
Filed Under: