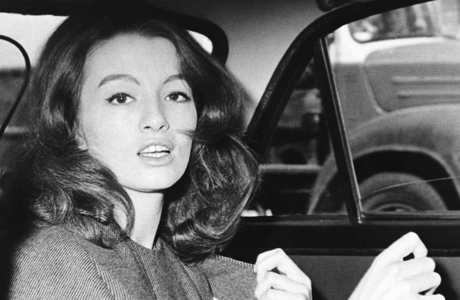 Let's celebrate history's seamier side. It was 50 years ago today (June 5) that John Profumo, the British Secretary of State and a rising politician in the Conservative Party, resigned in disgrace after having been caught having an affair with Christine Keeler, a 19-year old topless dancer at a London club.
Here's a BBC report marking the anniversary:
The Profumo Affair, which eventually brought down the Conservative regime of Prime Minister Harold Macmillan, had it all: sex, lies and photographs. Regarding sex, Keeler had slept not only with Profumo (who was married to Irish-born movie star Valerie Hobson) but also with a Russian spy and others. As for lies, Profumo originally denied the affair, claiming there was "no impropriety whatsoever" in his relations with Keeler.
And photographs? The Profumo Affair would be just another in a long line of sex scandals involving British politicians if not for a single iconographic photo. The shot, of a naked Keeler straddling a chair, her naughty bits concealed by the chair's back, encapsulated the scandal and captured the public's imagination, and continues to do so to this day.
That photo, along with additional images of others involved in the scandal, are currently on display at the National Portrait Gallery in London as part of a special temporary exhibition. The exhibit examines how the scandal was covered in the media at the time and subsequent reinterpretations.
The photo of Keeler was shot by Australian-born photographer Lewis Morley as publicity for The Keeler Affair (1963), a quickie exploitation movie starring Keeler. After Morley had shot several photos of a scantily clad Keeler in his studio above a London nightclub, the movie's producers insisted that he shoot a nude portrait of the young woman. Keller was reluctant to doff all her clothing but the producers told her that she was contractually obligated to do so.
Years later, Morley recalled that he shooed everyone from his studio except for himself and Keeler. "I turned my back to Christine, telling her to disrobe, sit back to front on the chair. She was now nude, fulfilling the conditions of the contract, but was at the same time hidden," he said. "We repeated some of the poses used on the previous two rolls of film. I rapidly exposed some fresh positions, some angled from the side and a few slightly looking down. I felt that I had shot enough and took a couple of paces back. Looking up I saw what appeared to be a perfect positioning. I released the shutter one more time, in fact, it was the last exposure on the roll of film."
His contact sheets, as well as the actual chair in which Keeler posed, are now in the collection at the Victoria and Albert Museum in London. To see Morley's full contact sheet of the nude session, click here.
Profumo died at age 91 in 2006, following his resignation working on behalf of the poor in London's East End. He was made a Commander of the Order of the British Empire in 1975. Keeler, now 71, periodically resurfaces in the press, usually to promote yet another copy of her memoirs (she has published at least five versions of it).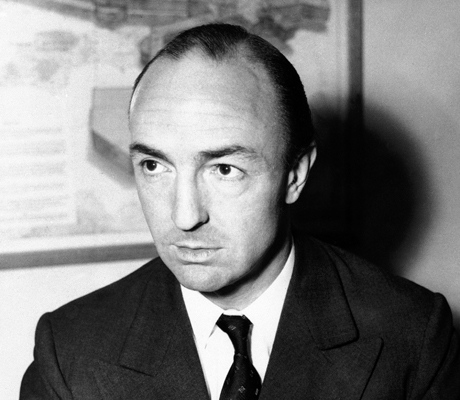 In 1989, a feature film about the affair was released called Scandal. It starred Joanne Whalley as Keeler and Ian McKellen as Profumo. "Scandal is an express tour of the Profumo affair that moves with a pop historian's revisionist swagger and plays like News of the World headlines set to early '60s rock 'n' roll," wrote Richard Corliss, reviewing the film for Time magazine.
Here's a trailer for the movie:
Read More
Filed Under: