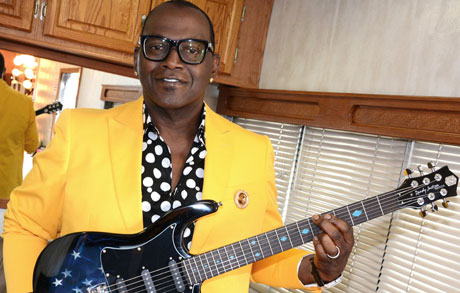 Let's not beat about the bush, we all know the Brits have a bit of a thing for sexual wordplay. They're always at it! Even when there is no call for a rude pun or double entendre, you can rely on a Brit to stick one in, just to inject a bit of sauce. They love to ram the point home. Et cetera.
This, then, is why the name Randall has never really caught on in the UK. People called Randall are never called Randall, it always gets shortened to Randy, and as far as the Brits are concerned, that word has one meaning, and one meaning only: horny.
Oh sure, it sort of means the same thing in America too, but as a term it has never caught on in the same sort of way. And in Britain, Randy isn't a common enough name to evade the sexual stigma. Just as there's a global waning of men called Richard who are happy to shorten their name to Dick, you'd struggle to find too many Randys in the UK, unless they were named by sadistic parents who hoped to teach their kids to fight at school.
So, here's a brief glossary of American Randy celebrities, with the British translations underneath.
We'll start with an easy one:
Randy Jackson
The son of Randy Jack, whose own randiness is unrecorded.
Randy Newman
Far less of a sexual chauvinist than Randy Oldman
Randy Travis
A predatory guy in a taxi, whose chat-up line is "you talkin' to me?"
Randy Couture
Fashionably sexy.
Randy Miller
Giving grain the grind of a lifetime.
Randy Rainbow
An equal-opportunities sexy guy.
Randy Crawford
The sexiest place to cross the river craw. Which has a set of tributary streams called…
Randy Brooks
The water doesn't flow, so much as spurt.
Randy West
Far friendlier than Frigid East.
Randy Spears
Spears PLURAL? That's just showing off, my good man.
Randy Stone
The ninth Harry Potter movie, in which things develop between him and Ginny.
Randy Spelling
"Boobies. B-O-O-B-I-E-S. Boobies"
Randy Oliver
A sexually-charged musical about Victorian ne'er do wells, presumbly written by Charles Dick-ins.
Randy Savage
A morlock with a boner, basically.
Randy White
Even colours get sexy sometimes. How do you think they invented pink?
Got your own Randy idea? Stick it in the box below….
Read More
Filed Under: