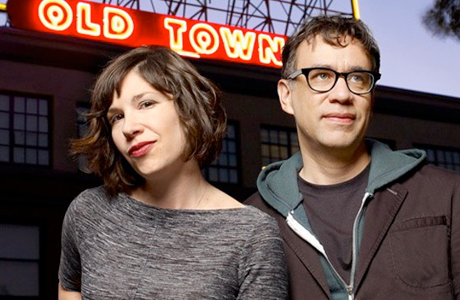 Want to learn everything there is to know about U.S. society without actually leaving the house? Turn on your telly…
Veep
Despite being conceived and penned by an elite panel of funny Brits (including The Thick Of It's Armando Iannucci), this D.C. satire about a shambolic Vice President (Julia Louis-Dreyfus) will school you in U.S. politics better than The West Wing ever could. You'll leave each episode with a belly full of laughs and an understanding of how things really get done in Washington. Or don't get done. Because engineering even the slightest policy shift in the U.S. is virtually impossible, even when you're the top dog's number two.
The Simpsons
This never-aging, perpetually jaundiced animated clan have been parodying small-town America and explaining what it is to be middle class in the U.S. of A since 1987. It's an entirely different set of specifications from being a middle class in the U.K. – something you'll need to wrap your head around if you're an expat Brit trying to decode American politics and reporting.
https://www.youtube.com/watch?v=lq3jvnpaBPk
Portlandia
Brits may not be aware that Oregon has a reputation for housing what Americans call "crunchies." These are the kind of people who buy their kids recycled, organic, papier-mâché, gender-neutral bikes and demand a full background check on an animal before ordering part of it in a restaurant. The headquarters for this kind of carry on is Portland, and so the comedy sketch show Portlandia was born. Best skits include the one about the guy who checks into rehab for a pasta addiction.
https://www.youtube.com/watch?v=JfbCvSQw
Girls
If you thought the term "hipster" referred merely to a type of low-rise trouser popular in the 1960s, watch an episode of Girls and update your dictionary. The show, created by and starring Lena Dunham, is an excruciatingly funny voyage into now-fashionable Brooklyn, with its self-absorbed, under-employed twenty-something population. Ironic thick-rimmed glasses, vintage hot pants and aspiring writers abound. FYI: British hipster equivalents scuttle between speakeasies in previously perilous parts of east London.
https://www.youtube.com/watch?v=Z7OWCyhfbCw
The Daily Show with Jon Stewart and The Colbert Report
Late night Monday to Thursday on Comedy Central, anchormen Jon Stewart and Stephen Colbert can be found throwing gag grenades at the American right wing, albeit from different foxholes. While Stewart is a straight-up liberal and delivers his reports as such, Colbert plays the part of a cartoonish conservative loudmouth, dripping with satire and peddling "truthiness," justice, and the American way. Both offer hilarious perspectives American politics and the (often absurd) way it's reported. (In a deliciously ironic development, that most American of institutions, The Daily Show, is now hosted, albeit temporarily, by wry, tea-swilling Brit John Oliver.)
The O'Reilly Factor
A politically moderate Brit might mistake this Fox News Channel talk show for a Colbert-style right-wing spoof, but host Bill O'Reilly is deadly serious (even if he has become chummy over the years with his arch-critic, Jon Stewart). And so are his millions of loyal American viewers. This is the most watched cable news program in America — and it's one you should dip into if you want to understand staunch conservatism in the U.S.
Glee
The ultimate American high school drama rakes together all the characters you'd expect — jocks, nerds, fatties and cheerleaders — and adds new ones: LGBT kids, disabled kids, poor kids, kids with eating disorders. Deliberately, no one is unaccounted for and Glee simultaneously embraces, spoofs and rejects them all. Mostly in song. Only America could produce a show that swings so effortlessly from cloying sentimentality to viciously funny dialogue.
https://www.youtube.com/watch?v=0yIGVOyiHDc
Duck Dynasty
So, arguably a bunch of Louisiana "rednecks" who made a fortune inventing duck hunting paraphernalia aren't archetypal Americans. But their rags-to-riches story is a variation of the fairytale that anyone raised in the U.S. grows up hearing about: that if you work hard enough you can make a stinking pile cash no matter where you start out in life. It's heart-warming stuff, but personally I watch for the beards and banter, which are every bit as impressive as the Robertson family's bank account.
Nashville
The 2012 primetime soap opera starring Hayden Panettiere and Connie Britton as rival country music stars reveals just how relevant the genre still is in modern-day America. Brits might dismiss country music as a tacky joke, but here it's a billion dollar business. And "Music City," as Nashville is also known, is the command center and the backdrop for this drama's epic live performances and scandalous tales of romantic betrayal.
The View
Big-haired, overly-composed and featuring Barbara Walters and Whoopi Goldberg on opposite ends of the table, the diverse, all-female panel of this Loose Women equivalent crunch the issues most relevant to adult American women — or so they would probably claim. You'll cringe at most of the content and gag on the rest, but this daytime show is a massively popular so it must do a good job of reflecting America back at itself.
https://www.youtube.com/watch?v=6Ix2B-kadCU
TV fans, join us on Twitter Friday at 1 pm ET for our #MindTheChat for a discussion of what to watch on American TV (and where to watch it). Click here to tweet your hidden TV gems using #MindTheChat.
SEE ALSO:
10 Signs That You'll Never Move Back to Britain
10 American Habits Brits Will Never Understand
Read More
Filed Under: