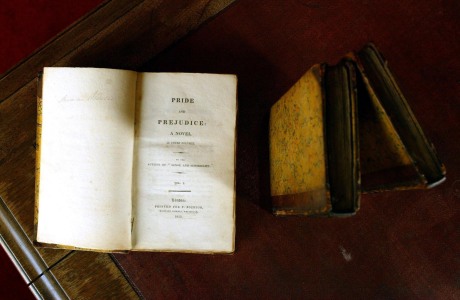 As we have already mentioned, this year marks the 200th publication anniversary of Jane Austen's Pride and Prejudice. The story, which satirizes early 19th century English society, is highly beloved – even by those who are not huge fans of classic British literature…or novels in general. So beloved, in fact, that Jane Austen may be replacing Charles Darwin on the new ten pound note. (If you haven't read Pride and Prejudice have no fear, it's available here for free.)
Whether you've read Pride and Prejudice more times than you can count or you're completely new to Austen, get ready to geek out and celebrate both your inner Anglophile and bibliophile.
1. Acquire Some Attire (and Accessories)
Out of Print's Pride and Prejudice shirts, totes, notebooks, and pouches allow you to wear your heart on your sleeve, literally. What better way is there to initiate conversation about your favorite book? You may also want to get a Little Thinker Jane Austen doll for your shelf, or to hug while you reread Pride and Prejudice to celebrate the anniversary – either one. Let your nerd flag fly.
2. Attend JASNA's Annual General Meeting
You may enjoy Austen's works, but these Austen-lovers take literary appreciation to an entirely new level. The Jane Austen Society of North America was founded in 1979, and is "dedicated to the enjoyment and appreciation of Jane Austen and her writings." The society holds a general meeting each year, and this year's will focus on the timeless nature of Pride and Prejudice. The meeting will be held September 27-29 in Minneapolis, Minnesota, and feature a number of fun events, including a ball and a series of speakers.
3. Watch the Lizzie Bennet Diaries
Lizzie Bennet Diaries is a modern adaptation of Pride and Prejudice in the form of a video diary, run by Lizzie Bennett and her best friend Charlotte on their YouTube channel. While the original novel is set in rural England, in this adaptation our story takes place in the cultural melting pot of Los Angeles, and features a diverse cast of characters. There are also three Bennet sisters instead of five. That being said the story obviously does not progress in a strictly novel-accurate way, but instead moves to adapt the situation of the story to the present times. One of the developers, Hank Green, remarked on his blog, "We are not attempting to re-create the story word for word… we're trying to re-create the spirit of the story, to imagine what the characters would be like in a modern situation that is completely different in specifics, but surprisingly similar with a broader view."
4. Board a Themed Celebratory Transatlantic Cruise
Yes, you read that correctly. In honor of the bicentennial, Cunard World Club is offering Austen themed land-tours on Queen Mary 2 Transatlantic crossings. Notable locations in the tour include the Jane Austen Museum, Chawton Library, Winchester Cathedral, Salisbury Cathedral, and even Stonehenge. The tour is guided and mainly takes place over a two-day period. The themed cruise program is offered through November. Read more about it here.
5. Cook like Jane
What better way is there to immerse yourself in a culture than to partake in the local cuisine? The Jane Austen Cookbook By Maggie Black offers a look into foods commonly consumed in Austen's home and time period, and even ventures to offer recipes to foods mentioned in her novels. If you're itching for some 19th century English cuisine and you can't wait the time it takes for a book to be delivered in the mail, check out some recipes offered by the Jane Austen Centre in the Georgian Town of Bath.
6. Run into Jane at an Art Exhibit…in 1813
In May of 1813, Austen visited an exhibit of Sir Joshua Reynolds' well-known and respected portrait paintings at the British Institution in Pall Mall, London. Austen was known for being a fan of Reynolds' works and of the medium of painting in general. She is thought to have drawn upon memories of the portraits at the exhibition when writing about various character descriptions in her novels, even referencing the famed artist through the namesake of a Mrs. Reynolds from Pemberley in Pride and Prejudice.
Now, you can take a turn through the rooms of the exhibit as well. The English department at the University of Texas at Austin has recreated a virtual replica of the exhibit, which you can experience from the comfort of your own computer here – no empire-waist muslin dresses or men's knee-high stockings required. But if you are looking to dress up, look no further…
7. Spend a Jane Austen Weekend in Character
This event may take place in Hyde Park, Vermont, but you'll feel like you're back in early 19th-century rural England in no time. Boasting its status as a literary retreat, The Governor's House encourages you to "Take afternoon tea. Listen to Mozart. Bring your needlework. Share your thoughts at a book discussion…" and enjoy various other luxuries of Regency England. The Special Jane Austen Weekend in Character gives you the rare opportunity to assume the identity of your favorite Austen character for a weekend and engage in all of the activities one might come upon in the English countryside. From August 9-11, you can participate in games, dancing, fencing, riding, and similar stimulating diversions. Brush up on your Austen knowledge for the trivia quiz, bring your best prearranged compliments, and grab a friend. It may not be Bath, England in 1813, but it's still sure to be a ball.
8. Talk like Jane
Let's face it, most people don't speak as elegantly in everyday conversation today as the characters in Austen's novels seem to have spoken in the early 1800's. While you may succeed in raising a few eyebrows with your impeccable diction and brilliant articulation, take part in celebrating Talk Like Jane Austen Day on October 30th! Save the date, inform your friends, and enjoy assuming the vernacular of Regency England.
9. Paper Dolls…But Way Better
Whether you've seen so many period dramas that you can pinpoint the year the story takes place based on fashions alone, or you don't know the difference between a corset and a bustle, this game will allow you to customize a Regency era woman's fashion to your heart's desire. A handy diagram that pops up when you hover over your model explains the names of different clothing pieces and accessories, so you may even learn a thing or two about early 19th-century women's fashions.
10. Spin-Offs and Mashups
So, you've read Pride and Prejudice about 50 times now, and you can't get enough of it. We know the feeling. However, there are many spin-offs of the story written by people who love the original novel just as much as you do. Take the New York Times bestseller Pride and Prejudice and Zombies by Seth Grahame-Smith, for instance. "It is a truth universally acknowledged that a zombie in possession of brains must be in want of more brains." Meryton is being attacked by the undead! The zombie-filled parody is sure to bring a smile to the face of anyone who knows the original text well enough to spot some of the finer jokes.
There are many, many spin-offs and parodies of Pride and Prejudice; from cat crossovers like Pride and Prejudice and Kitties: A Cat-Lover's Romp through Jane Austen's Classic by Pamela Jane and Deborah Guyol, to stories that cast Fitzwilliam Darcy as a vampire, including Mr. Darcy, Vampyre by Amanda Grange. You can be sure to find one that appeals to your individual taste.
If videos are more your speed here's a Jane Austen/Downton Abbey mashup:
Also, a Jane Austen/Fight Club mashup:
If all else fails, you could always snuggle up in front of the television and have yourself a marathon of all of the Pride and Prejudice film adaptations. There are enough to keep you going for a while. Also, keep an eye out for a Downton Abbey-style retelling of Pride and Prejudice, and BBC's Death Comes to Pemberley.
How do you celebrate your love for Jane Austen's Pride and Prejudice?
Read More
Filed Under: