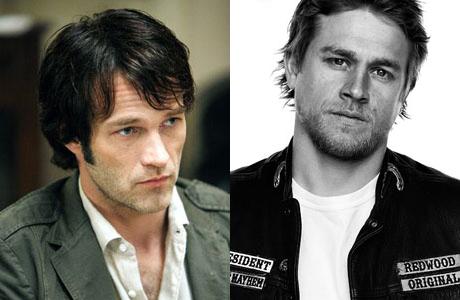 There's a number of British actors putting their infectious accent on the shelf and donning American personas for our viewing pleasure. Let's take a peek at British actors currently on American TV:
1. Tom Weston-Jones 
Tom Weston-Jones was born in England, raised in Dubai and plays an Irish-American cop in BBC AMERICA's Copper as Detective Kevin "Corky" Corcoran. Got that?

2. Hugh Dancy
In the prequel to Silence of the Lambs, English actor Hugh Dancy (Confessions of a Shopaholic) portrays criminal profiler Will Graham in Hannibal. He investigates gruesome cases, tracking down twisted killers, ironically with the help of Dr. Hannbial Lecter (Mads Mikkelsen).

3. Freddie Highmore
The little schoolboy from Charlie and the Chocolate Factory and Finding Neverland is all growned up. English actor Freddie Highmore has made his way to the states and is playing a young Norman Bates in Bates Motel, the story of what exactly happened between Norman and his mother (Vera Farmiga) prior to Psycho.

4. Charlie Hunnam
English actor Charlie Hunnam portrays hot headed Jax Teller, the president of the Sons of Anarchy Motorcycle Club in Sons of Anarchy which is based in the fictional town of Charming, California.

5. Laura Fraser
Scottish actress Laura Fraser steps into a world of meth and baddies in the fifth season of Breaking Bad. She plays an American Madrigal executive named Lydia who leads a double life with one foot in the drug world. (Fast forward to 2:52 to meet Lydia.)

6. Damian Lewis
English actor Damian Lewis won a Golden Globe this past year for his portrayal of Nicholas Brody in Homeland. He not only plays an American … but, an American war hero (sort of).

7. David Morrissey
The Governor, portrayed by English actor David Morrissey, will (spoiler alert) be returning for season four of The Walking Dead. Morrissey was originally signed up for just the one season. As well, the character was originally killed off in the comics. So, it's a bit of a surprise for everyone involved.

8. Stephen Moyer
English actor Stephen Moyer portrays a vampire who is almost 200 years old in HBO's True Blood. His accent is a little "old fashioned" at times, probably having been born in 1840, but if you weren't told, you may not realize Bill Compton is being played by a British actor.

9. Matthew Rhys
Welsh actor Matthew Rhys pulls off a number of covers in FX's spy drama The Americans, also starring Keri Russell. The two play deep-cover Russian spies in the U.S. during the 1980s.

10. Sam Palladio
Nashville's Gunnar Scott comes across as a good 'ol country boy, but he's actually played by English actor Sam Palladio. Native Australian Clare Bowen plays his Southern girlfriend Scarlett.

Did anyone on the list surprise you?
Read More
Filed Under: