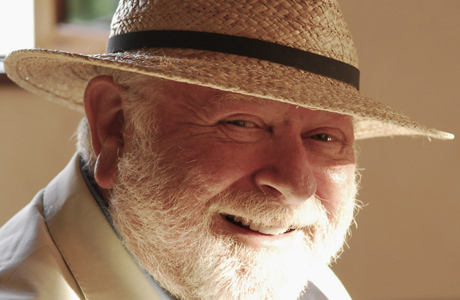 When Jonathan Lynn first came to Los Angeles in the 1980s, he couldn't find the BBC on TV.
The comedy series he had created and written with Anthony Jay for them — Yes Minister and its sequel Yes, Prime Minister — was hugely successful back in the U.K. But here it was more difficult to tell: "It had a very limited exposure, just PBS and A&E, but was very well received and won a cable award. But we couldn't even find the World Service — we had to buy a special short wave radio just to hear it. In that sense we were real travelers."
Nearly 30 years later, all that has changed. There's BBC AMERICA, the Internet, iTunes and countless other ways to see and hear the best the U.K. has to offer, but it's only now that Lynn's most famous creation is coming to the stage in America. Running June 4 through July 14 at the Geffen Playhouse in West L.A., the latest near-disaster for Prime Minister Jim Hacker and his constant nemesis, Civil Service bureaucrat Sir Humphrey Appleby, is already selling out.
For those who haven't seen any of the shows, the Yes series were set in the corridors of power in the U.K. Government. No political parties or personalities were ever mentioned by name, and Lynn feels that, rather like his favorite U.K. television show Dad's Army, it has remained timeless: "We weren't writing about politics, we were writing about government and the battles between politicians and bureaucrats – elected and permanent officials. Any sense of topicality was an illusion, because nothing changes. In London there was a line that never got a laugh, but then there would be a scandal and it got a huge laugh for two weeks, then people stopped laughing again."
The original television series was shown — and adapted — all around the world, and audiences in the then-Soviet Union, China, Israel, Jordan and many other countries all "saw it as an attack on Western Capitalist regimes – and vice versa," says Lynn. "Other people saw it as a satire on bureaucracy, from which we all suffer. People working in the Civil Service loved it, and so did politicians. It was universal, the idea of the Government principle that if no one knows what you're doing, then no one knows what you're doing wrong."
With his career on a high and having just directed his first movie Clue, Lynn bought a house here "overlooking the ocean" in Pacific Palisades in 1989, and has divided his time between here, London and New York ever since, though he feels that the same rules apply for Brits arriving here today: "A British accent may be an ice breaker — I always found American accents as fascinating as they found mine — but in the movie business at least, it doesn't make a difference. Hollywood is not xenophobic. If you can make them some money, they don't care where you're from. Think of all the foreign directors that have been a success here since the early days."
Lynn has directed a number of movies over the years including Nuns On The Run, My Cousin Vinny, The Distinguished Gentleman and The Whole Nine Yards – and though he admits that some companies "threw lots of money at him" to re-visit or re-work the Yes series on stage or television, neither he or Jay were interested. They had written 38 episodes in all for television, and agreed that "they'd said all they wanted to say."
Margaret Thatcher famously declared it her favorite show — and wrote a sketch for it that she performed with actors Paul Eddington (Hacker) and Nigel Hawthorne (Appleby) — though all Lynn said about that was that "you can't always choose your fans."
Oddly, it was Lynn becoming a fan of Daniel Craig that bought Yes, Prime Minister back to the stage: "It was around 2009, was stimulated by seeing how great Daniel Craig was at the new James Bond. And I always thought no one could do it better than (Sean) Connery, and I thought this part has been played by several actors, and here's one who is just as great as the original – in a different way. It was like that with our actors [Eddington and Hawthorne], people thought no one could play their roles ever again, but then I thought of Doctor Who, who has had constant cast changes, and half the world has played Sherlock Holmes."
Lynn and Jay got to work again and found it easy and enjoyable as ever. In the intervening years since he had moved to L.A., they had "constantly" stayed in touch. "When my wife and I went to England we'd go and stay with Tony and his wife in Somerset, even in the 23 years we weren't working together," says Lynn. "We've known each other for decades, and I don't think we've ever had a cross word."
They didn't change much and wouldn't "chase topicality," just saw the whole thing as an "experiment. We wrote the same way, but cast as differently as we could, just to see how that would work – and it was wonderful." After a trial run at Chichester, it moved to the West End in 2010 and "within minutes, people had forgotten the former actors, and they just liked it. It recouped in five weeks, and I've never heard of that."
Those trips to England were a chance to have a few cuppas: Lynn is a PG Tips drinker and insists that you have to get the ones imported from the UK so they're his preferred "builder's tea" strength. Trips to the U.K. also meant seeing family — he still has sisters who live there — and he also admits to missing the English countryside.
Despite being a homebody and a "drinker of good wine" instead of beer, in Los Angeles he's a regular visitor to the Hollywood Bowl (especially the classical concerts), the Disney Hall downtown and the Norton Simon Museum in Pasadena — "they're my three favorite spots, far and away" — though they all feature one of his bugbears, traffic: "When we first came, we used to be able to drive around pretty easily. Now it's just one long traffic jam. We allow an hour and a half to two hours to drive to the Disney Hall, and then it takes 20 minutes to get home. Ridiculous."
After the London success and with talk of other shows around the world, Lynn sent the script to the Geffen Playhouse and, even without a cast in place, they said yes. Lynn is in the director's chair for the Geffen run, just as he was in London, and hopes Yes, Prime Minister will move on to Broadway.
As for the legacy of the Yes series, though some might know that to "Sir Humphrey it" is short hand for bureaucratic Machiavellian spin doctory, younger television fans have unknowingly seen the influence the BBC's In the Thick Of It, which writer/director Armando Iannucci called "Yes Minister meets The Larry Sanders Show."
As for the future, Lynn expects he and his wife will spend more time in New York with their son and grandchildren, but he's also developing a movie he's written and plans to direct called The Pre-Nup. He was rather hush-hush about the details, but it's a romantic comedy based around a transatlantic couple, and he hopes it can be filmed mainly in the U.K.
"I prefer to work with my own material because I'm not worrying about what the writer intended," he says. "I can have a quick word with myself and come up with the answer very quickly, with no argument! But I'd love to do something completely different like a suspense film. I've always admired Hitchcock tremendously, but I've been utterly typecast. Though frankly at my age, I'm still working and should be counting my blessings."
Read More
Filed Under: