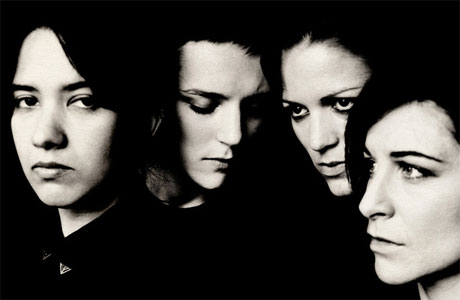 2013 has been a delightful year for music so far. David Bowie came back, My Bloody Valentine came back, Depeche Mode came back… heck, even Justin Timberlake has taken time out of his Hollywood schedule to make an album of inspired (but rambly) psychedelic pop soul. There's a lot going on.
So, to celebrate this, and to tip the hat to James Blake, whose second album has taken a dramatic leap upwards in catchiness and quality, to consolidate the excitement around his first, here's a grab-bag collection of exciting British talent who deserve to be heard in your part of the world:
1: If you like being glared at, try Savages
The reductive view is that this lot are an all-girl Siouxsie and the Banshees in Joy Division fancy dress, but there's something uniquely feral in there too. One listen to their debut album, sternly entitled "Silence Yourself" and you'll want to back away, slowly, in case the claws come out.
2:  If you'd rather be wooed with sad tales, told softly, try Daughter
Here's a band that takes the melancholy of folk music, and applies very modern production techniques, taking their cues from modern minimalists like the XX. Watch them break hearts all over the world.
3: If you like a bit of a whoosh with your psychedelic rock, try Hookworms
Their debut album "Pearl Mystics" is the result of a lot of jamming, and mucking about with effects pedals, and it shows. Occasionally it sounds like the first Verve album played at 45rpm – singer MJ has something of the druidic chorister to his voice – but it's a beautifully meaty squalling thrill ride to, y'know, space city and stuff.
4: If you want to hear Nina Simone sing with the Beach Boys, try Laura Mvula
There are very few musical artists whose albums have to be heard in full to be properly appreciated. Laura's "Sing To The Moon" is exceptional in every sense. As a lead singer she is stern and declamatory, as an arranger of harmonies, she's inventive and sharp. Her melodies take unexpected turns, her arrangements stubbornly fail to pan out in the way you'd imagine they should. A true original and a major talent.
5: If you like a bit of Mumford, but enjoy the occasional spark of wit, try Stornoway
The second Stornoway album, "Tales From Terra Firma," showcased a previously-unheard sense of invention in the arrangement of their traditional British singer-songwriter-type folk music. Unusual instruments would wander in, unexpected. Lyrics would contain sharp jokes. There's a song called "The Great Procrastinator" and it's like an Edwardian sing-song. There's an enormous wave of affection towards British acoustic music at the moment, thanks to Mumford and Sons, and Stornoway deserve to surf along the top, on a board made of old mandolins.
6: If you like your electropop delivered with real human pain, try Chvrches
Glasgow has the reputation of being the city where lost and forgotten Big Star albums go to die, but the city's biggest buzz band of the year are this electronic trio with the SEO-adjusted name and the girl with the vinegary voice.
7: If you like your drum 'n' bass to be more soulful than slamming, try Rudimental
Already chart-toppers over here , this production quartet have been bashing out high-velocity dance hits for almost exactly a year now. Which makes their relative lack of success in America a little hard to understand, given, y'know, Skrillex.
8: If you want to hear the English Beck, try Bill Ryder-Jones
Bill was the guitarist in the Coral, the Liverpudlian psych-pop indie band. Now he's delivering considered, swoony songs in the vein of Alex Turner, Ray Davies, or Beck at his most melodic and mournful. And if 2013's "A Bad Wind Blows Into My Heart" seems a bit traditional, try 2011's wordless pastoral suite "If" instead.
Yes? No? Tell us here…
Read More
Filed Under: