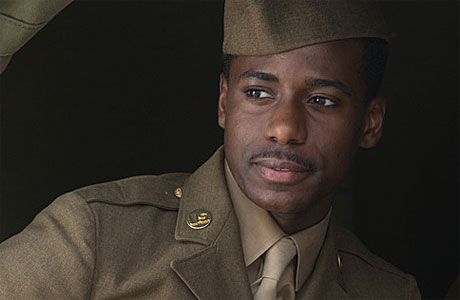 Changes are afoot in Downton Abbey. With the show's creator Julian Fellowes pledging to, as he put it "widen the show ethnically," new storylines are being written about the arrival of jazz in 1920's Britain, and with it, some fairly frank discussions around race relations.
Which means we'll be seeing our first black character – a jazz singer played by Gary Carr – when the show returns to UK TV screens for an eight-part run in the autumn. British viewers may have already seen Gary in the hit show Death In Paradise, or possibly Bluestone 42. 
From the production side, Carnival Films' managing director, Gareth Neame told DigitalSpy: "We are delighted to introduce another fantastic, dynamic character to Downton Abbey.
"His addition will bring interesting twists to the drama which we can't wait for viewers to see in Series 4."
This follows the news, back in March, that the next series will feature a host of new characters, including an opera singer, played by the opera singer Dame Kiri Te Kanawa, and an old school friend of the Dowager Countess, played by Dame Harriet Walter. 
And if that all seems a bit Brit-centric, you may be interested to learn that American Downton fans will soon be able to get their hands on actual merchandise, and, given the sort of show it is, these won't be just T-shirts.
Gareth Neame told CNBC that NBC Universal will be "working across an entire range of products coming out this year. From fashion, apparel and homeware and furniture to wallpapers, beauty products and stationary."
Yep, there is going to be actual Downton Abbey wallpaper that will presumably turn your apartment into some kind of stately home. A stately home in which you can dress like an Edwardian, and exchange withering put-downs while sipping tea from a Downton Abbey bone china cup.
A prospect Gareth is extremely optimistic about:
"It's very rare for a British drama to have this much retail potential and merchandizing value."
It is. It is indeed. *cough*DoctorWho*cough*
Read More
Filed Under: