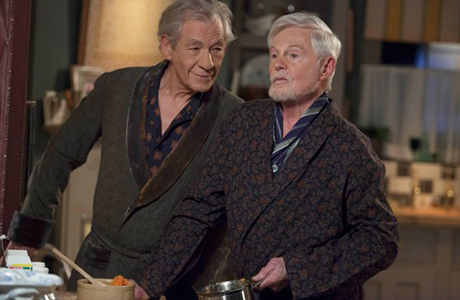 Real life friends Sir Ian McKellen and Sir Derek Jacobi play more-than-friends in this new sitcom.
What's on: Vicious
What is it: Freddie, 73, (McKellen) and Stuart, 74, (Jacobi) are in a loving, committed relationship but sometimes they can't stand each other. They've lived together in their Covent Garden flat for close to 50 years. Freddie is a semi-retired actor who never really "made it" but he brags like he did. Aw, what you don't know (or admit to yourself) won't hurt you. Freddie met Stuart at the bar Stuart worked at.
Air-date: April 29, 2013 on ITV
Who's watching: 5.78 million Brits
Why so popular: Umm, well, this is an understatement but Sir Ian McKellen has quite the draw. Of course, Sir Derek Jacobi is no chopped liver. The two have known each other since being undergraduates at the University of Cambridge and their history is apparent in their on-screen dynamic. Plenty of viewers probably tuned in to see the duo in action but stayed based on their performance of the stellar writing by Will and Grace writer Gary Janetti.
American counterpart: The Odd Couple, starring Tony Randall and Jack Klugman, was based on the platonic relationship of two aging, bickering gents.
In the trailer, Freddie asks his partner, Stuart when he's going to tell his mother about their intimate relationship. Apparently, Stuart is waiting for the right time, even though it's been over forty years. Their quiet-ish lives get shaken up a bit when a young neighbor (Iwan Rheon from Misfits and Game of Thrones) moves in upstairs. Watch, here:
The show has a nice pace, great dialogue and people are really liking it:
I love @viciouscomedy . Gets better every week #vicious

— Stef (@MR_Chubasco) May 13, 2013
@viciouscomedy One of the funniest shows I've seen in a long time, genuinely makes me laugh out loud, perfect casting too

— Joanne Weir (@jojoweir1974) May 6, 2013
But, of course, you can't please everyone with some critics chiming in:
The Guardian says the actors are more like caricatures of themselves, describing the show as, "Something like Frasier meets Will and Grace meets Henry V." It's supposed to be a dig but that combination sounds wonderful to us!
The Telegraph point blankly says, "What on Earth were they thinking?"
The Daily Mail shows its support, saying, "Jacobi and McKellen, who are both gay and in long-term relationships themselves, are having huge fun with their characters. Add Frances de la Tour, a sitcom stalwart since Rising Damp in the seventies, and this show is an instant classic."
The first series will be released on DVD on November 18, 2013.
What do you think? Are you going to watch it when it's available in the U.S.?
Read More
Filed Under: