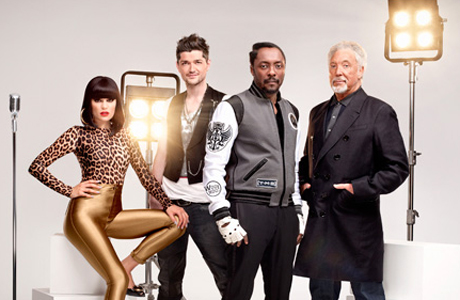 The Voice UK is currently #1 on BBC1.
What's on: The Voice UK  
What is it: Okay, we're pretty sure most people are familiar with NBC's The Voice but just in case … it's a singing competition reality show. The format consists of: 1) Producer Auditions; 2) Blind Auditions; 3) Battle Phase; and, 4) Live Shows. The panel of judges is made up of Danny O'Donoghue (The Script), Jessie J. (English singer/songwriter), Sir Tom Jones (Welsh solo artist) and will.i.am (The Black Eyed Peas), with hosts Reggie Yates and Holly Willoughby. The panelists are sat in swivel chairs and they only hear the competitor's voice versus being swayed by their look or choreography. If the judge is swayed by the sound of just the voice, they turn around and become their mentor, coach and add them to their team to compete against the other judge's assembled teams. The audience is the ultimate decider with their votes.
Air-date: March 24, 2012 – present on BBC1
Who's watching: 8.86 million Brits
Why so popular: Reality shows are crazy popular probably because of mere curiosity and the ability to peek into someone's life. If you throw competition into a reality it becomes a different animal with contestants really putting everything on the line. The Voice steers away from airing auditions-go-wrong that could be potentially humiliating but rather focuses on high quality music-making. Sometime's it's just so heartbreaking and hard to watch but ultimately, there is a winner. The show is a refreshing change from other competition shows with the seasoned performers acting as mentors versus just ball busting judges.
American counterpart: The U.S. has an American version of The Voice, which has been a huge hit and totally embraced by the public, with the original panel – Adam Levine, Christina Aguilera, Cee Lo Green, Blake Shelton – providing a nice mix of musical talent ranging from alternative and pop to rap and country.
It's the same name but is it the same show. Decide for yourself! Here's the trailer for Season 1 of The Voice UK:

Right, well, the premise appears to be the same but what about the judges. The judges size each other up in this clip:

And, the contestants? We're gonna sneak ahead to the Season 1 finale where you can check out the final four:

As usual, fans are heading to Twitter to show their support. Makes this lad wanna sing!:
The last guy on #TheVoiceUK will win this years show! Pure voice I'm telling ya!! I wish I could sing soooo bad!!

— Rio Ferdinand (@rioferdy5) March 30, 2013
A Season 2 contestant makes a cheeky point with this tweet:
It's so funny how my Neighbours who blanked me a few months ago now all won a have a chat #thevoiceuk #teamtom — Cherelle Basquine (@cherelleartist) May 22, 2013
Alas, not everyone's a fan:
Queen guitarist Brian May attacks #TheVoiceUK: 'It makes me sick' dspy.me/119FdXq

— Digital Spy (@digitalspy) May 21, 2013
Which version do you prefer? 
Read More
Filed Under: