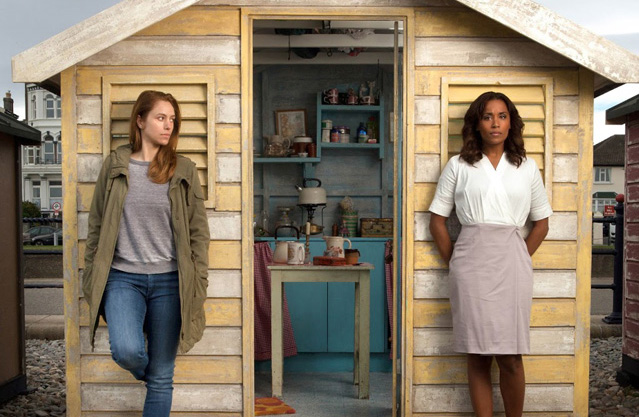 Don't let the title mislead you; this is no sweet ride.
What's on: The Ice Cream Girls  
What is it: Adapted from Dorothy Koomson's novel, two high school girls are accused of killing their schoolteacher in 1995. One girl, Serena (Lorraine Burroughs), is acquitted but the other, Poppy (Jodhi May) is sent to prison. We meet the girls 17 years later when Poppy is released from prison. Serena has moved away and started a family but is called back home to care for her mum. Current day, Poppy becomes obsessed with Serena and the life she's had to enjoy and what Poppy missed out on. Poppy doesn't have very much to lose at this point.
Air-date: April 19, 2013 on ITV
Who's watching: 5.53 million Brits
Why so popular: The two girls have led completely polar opposite lives but will always be tied to each other. It's not necessarily a story of whodunit but how did both of these young girls end up in a romantic situation with their teacher. Both girls have different recounts of the story. Viewers want to know what actually did happen and where do the girls go now.
American counterpart: Brokedown Palace, starring Claire Danes and Kate Beckinsale, tells the story of two girls accused of allegedly smuggling drugs while visiting Thailand. The two are imprisoned with one eventually being released and the other serving life.
The ITV trailer gives an in-depth feel for the story without revealing any spoilers; as well, we hear from the actors directly. One of the best lines comes near the end of the preview when Serena sits down opposite of Poppy, who is jailed and handcuffed, and Serena says, "Why do you hate me so much?" And Poppy promptly replies, "Why do you think?" Oooh, she does hate her. She didn't deny it. We. Want. To. Know!! (Suppose we can read the book while we wait.)
It's not just a chick flick, the lads are tuning in:
Can recommend #IceCreamGirls at 9pm on @ITV . Record it and catch up with first episode online. If you enjoyed #Broadchurch etc….

— Andy Martindale (@AndyMartindale) April 26, 2013
The ice cream girls is such a good series! #icecreamgirls #itv

— ella (@el_hartley) April 27, 2013
People are on holiday and still watching:
Boss this. I'm in Spain and still get to watch #icecreamgirls ❤

— ❤Miss Charlotte Fox❤ (@scousebabe888) April 26, 2013
Are you Team Poppy or Team Serena?
Read More
Filed Under: