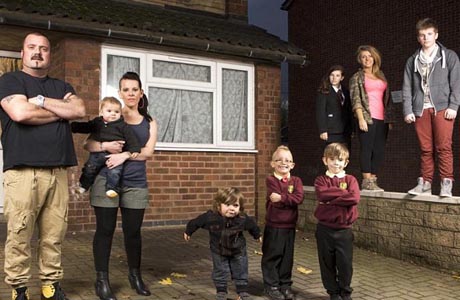 Channel 4's Skint examines the broke life.
What's on: Skint
What is it: This four-part observational documentary series tells the stories of individuals and families who are surviving without working due to long-term unemployment or have never worked at all. Some of the younger people featured don't even expect to get a job when they grow up because the jobs just don't exist where they live at the moment.
Air-date: Monday, May 13 on Channel 4
Who's watching: 3.02 million Brits
Why so popular: The subject matter may be difficult to digest but unemployment affects a huge part of the population. The series is meant to be informative and educate people on the pains of unemployment; the stories may be comforting to others who are currently struggling and may think, "Do others go through this? Or is it just us?" The show is presented with sensitivity and told unapologetically by the individuals themselves with humor and boldness.
American counterpart: Michael Moore's 1989 documentary Roger and Me examines the impact on an entire community when General Motors closes down several auto plants in Flint, Michigan, resulting in 30,000 people losing their jobs.
The series is filmed in Scunthorpe, England over a 9-month period. In this short clip we meet Dean, 37, and his wife Claire, who have seven children and step-children, watch here.
While we don't have a ton of clips to show you, the topic alone has such weight on its own. As expected, the audience is divided.
Some Twitter followers jump to the obvious with comments like these:
I hate the excuse 'I can't get a job'! There are plenty of jobs ! It may not be a job you want to do but there IS work out there! #skint

— Ian watkins (@Ianhwatkins) May 20, 2013
I'm not against people who need benefits, but if you have a 52 inch screen but no money for your kids food,then you need a rethink #skint

— Emma-Louise Trotter (@emglobetrotter) May 20, 2013

And then there are others who are more empathetic:
Twitter opinions on #skint made me sad tonight.Some people are born with nothing and no one to tell them they can ever be anything….

— caroline flack (@carolineflack1) May 20, 2013
All Jamelia needs is someone to love her. She's broke my heart. #skint

— Jazmine Franks (@Jazz_Franks) May 20, 2013
The Independent compares the show to a "non-fiction Shameless".

Documentary or Reality? 
Read More
Filed Under: