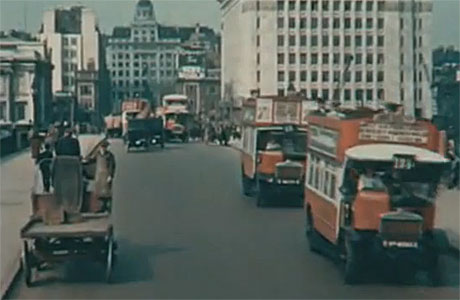 This footage of 1927 London was filmed by Claude Friese-Greene, a pioneer of the moving picture, using a process of shooting in colour that was developed by his equally ground-breaking father William. The All-British Friese-Greene Natural Colour Process, as used exclusively by Friese-Greene's company Spectrum Films, was hoped to be the next big leap in movie technology, and so, in order to prove its efficaciousness to investors and fans alike, Claude set off to film a series of travelogues in and around the British Isles, in order to be the first to record the entire nation in color.
His footage of London captures a city that had yet to be flattened by Hitler's bombs, and was still caked in soot (central heating was still a way off), but was already changing due to the invasion of the motor car. Some things, like the Houses of Parliament and Whitehall, remain the same.
And it's especially moving to see all the people staring, fascinated, through the camera lens as it comes by, as if they can glimpse right through the back of your monitor and into the modern world.
Those open-topped buses look fun too:
London in 1927 from Tim Sparke on Vimeo.
Sadly, Claude's dream of taking this new technology over to Hollywood soon evaporated, as the studios were all far more impressed by the rival Technicolor processing system, which gave a brighter, clearer result. After returning home, disheartened, Claude's grand scheme of recording the entire British Isles was abandoned, and after his death in 1943, the footage was donated to the National Film and Television Archive.
So this is not only a chance to look at the past, it's a chance to look at the past through a lens that wasn't ever used to look at much else. The story of the format, which will have felt thrillingly new at the time, is as heavily laden with the weight of the passing years as the images on the screen.
Read the BFI biography of Claude Friese-Greene
Read More
Filed Under: