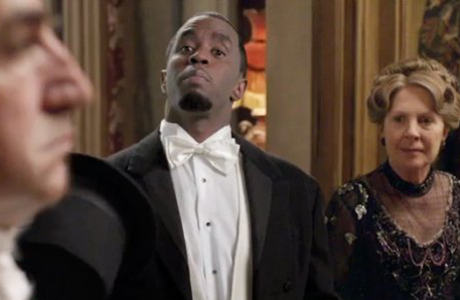 The Downton Abbey spoofs just keep coming. The latest, which is totally NSFW, stars P. Diddy (aka Puff Daddy and Sean Combs), the rapper-music business mogul-actor.
Diddy's fans knew something was up when he began declaring his love for the hit British TV show on his Twitter account on Wednesday and claimed that he had been cast on the show. "MY BIG NEWS: So happy to announce that Im a series regular on DOWNTON ABBEY-my favorite show+i'll be debuting a sneak peek tonight 12am PST!"  he tweeted.
PBS publicists denied that Diddy's debut was imminent on the series (it airs on PBS in the U.S. and on ITV in England), or happening at all. (As most Downton Abbey fans already know, Death in Paradise's Gary Carr has been cast as the show's first black character, a jazz musician who'll turn up in Season 4.)
On Thursday, Diddy's video spoof, entitled  Downton Diddy, went up on the Funny or Die site. In it, Diddy proclaims his fondness for the series, though he repeatedly mispronounces it as "Downtown Abbey."  He says he joined the show as a character named Lord Wolcott and then presents clips featuring himself interacting with various Downton characters in scenes lifted from actual episodes.
The Zelig-like video insertions of Diddy into existing Downton footage is cleverly done, but no one is going to mistake the humor on display as being in good taste. Take, for example, Lord Wolcott instructing the Dowager Countess (Maggie Smith) and Isobel Crawley (Penelope Wilton) to French kiss each other in front of him. He then offers them Ciroc vodka, a brand Diddy himself is paid to hawk, hefting a silver tray holding bottles of the stuff.
Take a look for yourself (again, this is majorly NSFW):

Did you find Diddy's take on Downton amusing?
Read More
Filed Under: