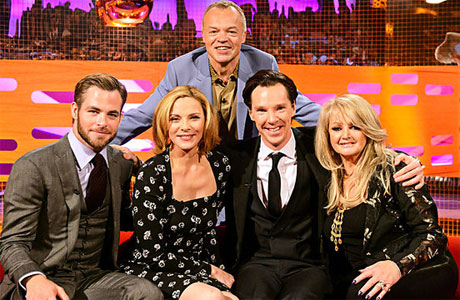 What is it with Benedict Cumberbatch and trailers? The man is a buzzing hive of 'coming soon' generative activity, leaving a trail of darkly voiced teasers for his various projects trailing all the way back to, well, his trailer.
Having spotted this trend, this week's Graham Norton Show attempted to get him to turn their light and frothy TV tease into something a little weightier and more dark when he appeared alongside Chris Pine, Kim Cattrall and Bonnie Tyler.
This is what happened, and be sure to keep watching for the astonishing upswing in tone, right at the end:
You can see the whole thing on BBCAMERICA this Thursday at 10pm/9c.
Read More
Filed Under: