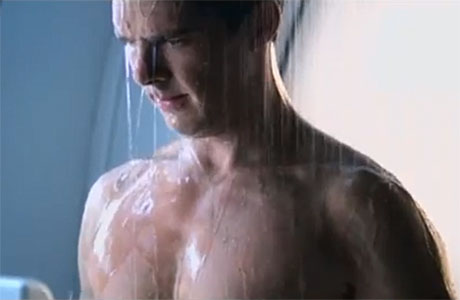 Let's cut to the chase, because we're all busy people, we all have hectic lives to lead and those lives should really only be interrupted by matters of extreme importance: matters that take us away from the trivial concerns of our everyday lives, matters that affect us on a deep level, that provide help where help is needed, that challenge our very notions of who we are as people, and as a community, that provide support in dark times and help to rebalance those elements that have become unbalan…
Oh right, right, cutting to the chase.
Did everyone see J.J. Abrams talking about Star Trek Into Darkness on Conan last night? And if so, did you catch the deleted scene they showed of Benedict Cumberbatch's character John Harrison in a shower, as a defence against accusations of sexism?
Take a moment to recover, if you feel the need.
Now, with regards to the criticisms levelled at the film and the defence offered here, I'm fairly sure visually objectifying a nearly-naked man (whether it's Benedict or Chris Pine) isn't the same as visually objectifying a nearly-naked woman, especially as the reason J.J. gives for Alice Eve to appear in her underwear is based on a need to show something about Captain Kirk's character, not the character of Dr. Carol Marcus. And it does seem that this is something J.J. is aware of, and realises that perhaps he could have done better.
I am equally sure that the decision to cut a scene of Benedict Cumberbatch in the shower is not one that would have been taken by a good proportion of the movie's audience. Quite the reverse, if our social media feeds are anything to go by.
In fact, it seems likely that a fair amount of that proportion would possibly have preferred the movie to be called Benedict Cumberbatch Into Shower, and may now wonder what other astonishments J.J. may have frustratingly removed in the edit.
Two wrongs, is what I am saying.
Read More
Filed Under: