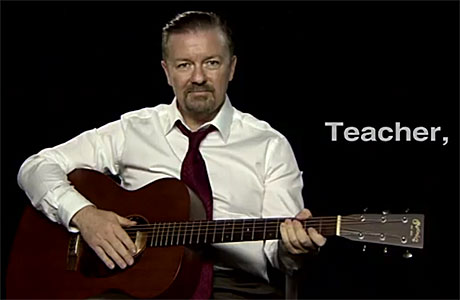 Ricky Gervais is a man with a very clear idea of how the media landscape is changing. When podcasts were still a relatively new idea, he made free ones with Karl Pilkington and Stephen Merchant. When they became very successful, he invited fans to pay for downloads, and when that proved to be a viable business plan he had those conversations animated into The Ricky Gervais Show (and yep, it was another hit). 
Content and delivery, hand in hand, that's what he does very well. And it's in that spirit that his new venture – Learn Guitar With David Brent – has been launched. It's a monthly broadcast from Ricky's YouTube channel, in which the newly-resurrected character from The Office offers the benefit of his dubious wisdom in the arena of popular song.
Here's a trailer:
Episodes will feature full versions of a series of Brent classics, including "Spaceman Came Down," and his very personal brand of homespun philosophy.
When his YouTube channel was first launched in March, Ricky explained that the ideas for his projects are often enhanced by the medium within which they can be delivered:
"Working with YouTube is a fantastic opportunity for new content to be made available without the limitations of schedules and international restrictions. Viewing habits are changing. And anyone who doesn't realise that will be left behind.
"I am very excited to be working with a platform that is so instant and accessible. And to catch up with David Brent is going to be fantastic."
And if you think this is just going to be a repository for cringe, a tightening gutbag of references to the G-string and the correct fingering for A minor, well it probably is.
Read More
Filed Under: