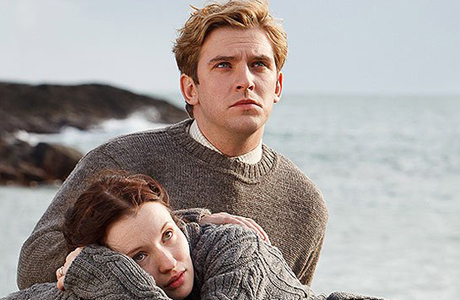 Downton Abbey star Dan Stevens, who played Matthew Crawley on the series, is hoping to prove that there's life after death.
To the dismay of fans, his heartthrob character on the hit British TV show–possible spoiler ahead if you've been living in Antarctica–was killed in an automobile crash in the Season 3 finale because Stevens wanted off the show at the end of his 3-year contract. (The episode aired on Christmas Day in the U.K. and on Feb. 10 in the U.S.)
Next month will mark the first test of Stevens' post-Downtown career when Summer in February, a film in which he has a starring role, opens on June 14 in U.K. movie theaters. Will his Downton devotees turn out en masse or will they boycott him because he deserted their favorite show?
A romantic drama, Summer also features fellow Brit Dominic Cooper and Australian actress Emily Browning.
The movie tells a fictionalized version of a love triangle between real life bohemians living in an artists' colony in Cornwall in the early 1900s.
Cooper plays a young Alfred James Munnings (1878-1959), who would later become one of England's best known equestrian painters, with his work collected by members of the royal family and other wealthy and titled patrons. Stevens portrays Capt. Gilbert Evans, a former solider, and Browning is cast as  Florence Carter-Wood, a young artist with whom both men fall in love, with tragic consequences.
Here's the trailer:
Summer is based on a novel of the same name by Jonathan Smith. The author adapted his book, first published in 1996, for the screen.
Many of the film's scenes were shot on location in Cornwall, which explains why Summer will, according to the Falmouth Packet, have special premiere showings in two of the area's most scenic towns: Penzance on June 3 and Falmouth on June 4.
American fans of Stevens will be disappointed to hear that Summer has yet to land a U.S. distribution deal.
Do you think Dan Stevens will find success as a movie star?
Read More
Filed Under: