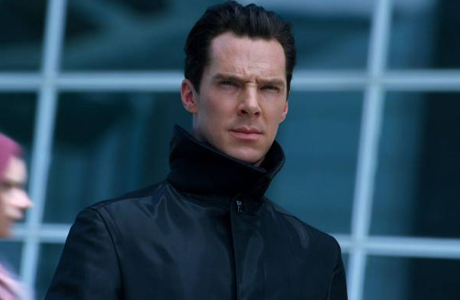 Benedict Cumberbatch, already much admired by his legions of followers, is set to rise to a new level of stardom in the U.S. with this weekend's release of Star Trek Into Darkness. The actor has described his character as a one-man weapon of mass destruction.
For Cumberbatch, it's his first venture into a really high-profile, big-budget Hollywood blockbuster in a major role. "I'm so flattered to realize what I'm a part of — I really, really am," he says.
To millions of fans, Star Trek is an entertainment, but to Cumberbatch it's more than that. To him it's offering content that has topical and political relevance.
In the film there's a debate among Starfleet personnel over how best to extract an enemy in a distant part of the galaxy — and whether that enemy should be subjected to due process.
The British actor says: "It's no spoiler I think to say that there's a huge backbone in this film that's a comment on recent U.S. interventionist overseas policy from the Bush, Cheney and Rumsfeld era."
He believes it's in the spirit of Star Trek history to touch on contemporary issues. "That's what Star Trek always did in my mind. No matter how futuristic the landscape and characters you always had themes that were always prevalent to now."
Now that Cumberbatch, the son of actors, has had a taste of Hollywood sci-fi adventure, how would he view a role in another much loved British sci-fi series, Doctor Who?
"I've got my plate full," he points out, referring to his role in the Sherlock TV series, so he's already very busy. But he is a Doctor Who admirer. He says: "That show is endlessly inventive and my mother has been in three episodes in the past. A lot of my friends have been in episodes. It's an institution in itself. I've always been a fan of it."
Read More
Filed Under: