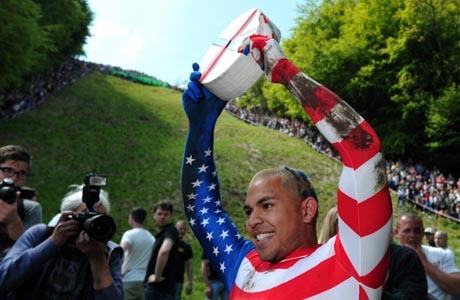 Kenny Rackers, 27, may have shocked friends and family in Colorado Springs, CO when he said he was going to travel 4,000 miles to Gloucester, England to compete in an annual cheese-rolling contest but … he won. We give Rackers credit for following his instincts and making this Anglophile adventure happen, with him saying, "I came over specially for this and I did what I had to do to win. I came three days early and I took a bad spill, but I came to win and that's what I did."
Should we backtrack a bit? What's cheese-rolling you ask? The tradition goes back 200 years and involves an 8 pound Double Gloucester Cheese being tossed down a very steep hill with racers madly chasing the cheese.
The organized event was canceled in 2009 due to injuries and crowd control but the race has taken place unofficially every year since then. Thousands gathered for the event on Monday, May 27 (it takes place over England's Spring Bank Holiday) but local police warned cheese-maker Dianna Smart, 86, who has supplied the cheese for 25 years, she may be held liable if she contributed cheese to the event. Aw, she's just doing her job. Even so, this time around, the group replaced the cheese with a lightweight foam version to keep Smart out of jail.
We can describe it for you but it really needs to be seen. It's almost difficult to watch, the flopping and falling, but here are some of the standout races over the recent years:
1) American Kenny Rackers' Big Win

2) The Last Official Cheese-Roll in 2009 

3) Epic Cheese-Roll Face Plants

4) Cheese-Rolling in Sloooooow Motion 

5) Cheese-Rolling Fail

What's your ideal Anglophile adventure you aspire to achieve? 
Read More
Filed Under: