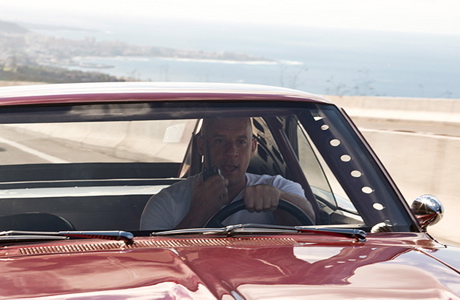 "Choosing the car you drive is like choosing your wardrobe, maybe even more important," Vin Diesel told TopGear.com about Fast & Furious 6.
The website says that the 1969 Dodge Daytona that Diesel drives in the movie is the "standout" car of the film, which opens here in the U.S. on May 24.
"I felt like the Daytona spoke to the character," Diesel said. "It's always a big process picking the cars and the casting of the car normally reflects the state of mind of our characters."
Director Justin Lin said he's been wanting to use the Daytona for a while, but, like casting an actor, he said the car had to wait for the perfect role.
"The Daytona is a car I had been looking at for the last three Fast & Furious films but they never felt right," Lin explained. "It did for this one."
And it turns out that one of the film's actors is a real car aficionado. Paul Walker owns eight BMW E36 lightweights, the largest single collection in the U.S. And he also owns every generation of the Porsche GT3.
Actress Michelle Rodriguez, however, says she drives a Prius, an admission that at first stunned the folks at TopGear.com. Until she explained: "Dude, I used to get so many speeding tickets, it was the only way to get the cops off my ass."
It's taken her four years, but now she says, "I've got my points down to a level where I can feel comfortable getting tickets again."
And then, there's the Fast & Furious "flip car" – like the cast, you'll flip over it:
http://youtu.be/YOG1WLMcAdY
• Speaking of cars and movies… we really don't understand why some people take Baz Luhrmann to task for historical anachronisms — after all, his temporal juxtapositions appear to be part of his artistic outlook. Nevertheless, some folks are grumbling about Luhrmann's choice of a Duesenberg driven by the character of Jay Gatsby in the new adaptation of F. Scott Fitzgerald's classic novel.
The New York Times points out that there's no way that Gatsby could have driven a 1929 Duesenberg Model J in 1922, the year in which The Great Gatsby is set. In fact, the paper says it's a "stretch" that Gatsby would have driven even an earlier model Duesenberg because the company had only just started operations at the time of the book's action – and because the text of the novel makes it clear that Gatsby has a pronounced preference for Rolls-Royces.
The Duesenberg in the movie is actually two cars, replicas that were worked on to look identical. One was made in Wisconsin in 1983, with a fiberglass body and a Ford V-8 engine, and the other was bought from an auto museum in Illinois.
And for those interested in automotive verisimilitude, the Times also observes that even though the 1974 film version of The Great Gatsby, with Robert Redford, used a Rolls-Royce, it wasn't the correct model, either. That film used a 1928 Rolls, with the steering wheel on the left. The 1922 model had its steering wheel on the right side.
• One last car, a Mini, a 1275GT Clubman to be exact, has left Birmingham's historic Longbridge factory and will be auctioned off this summer, reports TopGear.com.
But to classic car enthusiasts, this is not just any old, beat-up car.
The car was discarded decades ago in one of the plant's underground tunnels originally used to protect workers from air raids during World War II.
Parts of the plant have been abandoned, sold and re-purposed over the past decades, and this particular car was discovered last year by a former employee, Steve Morgan, who rescued it before the tunnels were filled in.
The car was apparently used to get around on the grounds of the factory and was reportedly damaged and then discarded in the tunnels after a storage container fell on it. The Mini faced further perils from thieves, vandals and the passage of time as it sat in its subterranean limbo. The remains of the car, basically its exterior shell, will be put up for auction this July.
Some are happy that hobbyists may get a chance to restore the car to working condition, while others feel it should be preserved in its current state to memorialize its history.
"If over 90% of a car is replaced is it the same car?" asked packratDave at the car collectors' site Hemmings Daily. "Lets be honest, there is not enough of this car left."
MikeEldred agreed, writing: "It should be a display in the British Motor Heritage Museum – maybe it should have been sent there before the vandals got to it."
"I hope this car gets restored and can be driven again, that's what all cars are meant to do," countered Chris Finch. "These cars need to be back out on the road where they belong… Lets not end this car's history by letting it sit in a museum somewhere, lets continue it's history for future generation to enjoy."
• In season 18 of Top Gear, Jeremy Clarkson put an airplane engine in a vintage Bentley and re-enacted the Battle of Britain, or he tried to. Sort of. Now a German bloke has taken a plane engine and put it in a motorcycle. TopGear.com points out that some of the video is in German, but that most of it is in the "international language of POWERRRRRRRR."
• And if you enjoyed season two of James May's Man Lab over the past weeks, you'll want to see season one. And you'll want to watch episode one, airing Monday May 20, 10p/9c – especially if you want to know how to defuse unexploded bombs, build a kitchen out of concrete or serenade a woman.
Read More
Filed Under: