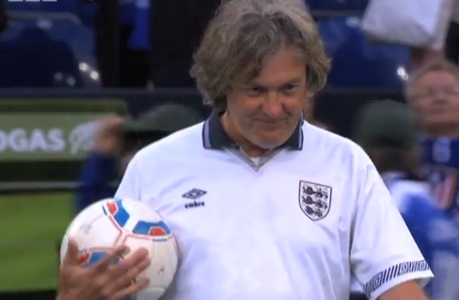 They said it couldn't be done: no way could James May make a penalty kick (yes, we're talking soccer, folks) in front of 20,000 screaming German fans. And to add to the pressure, James took the penalty at the exact spot where England was knocked out of the 2006 World Cup.
It's just another example of the way James May's Man Lab attempts to rewrite human history by reviving a can-do spirit.
The only question is: can James do it?
Find out when the episode premieres, Monday, May 6 at 10/9c.
Other feats James will attempt on next week's show: reinstating an ancient ferry crossing by constructing a boat out of "bendy" sticks and creating an indoor toilet garden. (We'd like to know where it is, if only so we can avoid it.) Oh, and James also builds the world's first Swiss Army bike:
• Don't you hate it how you hear some great words of wisdom, or some terrifically funny sayings, on Top Gear or Man Lab, and then you forget what they were? BBCAMERICA.com is here to help you out, with a feature that offers you James' Best One-Liners from Season 1 all in one place, right here to be exact.
Here are some of our favorites:
"Teach me to fish and I'll eat for a lifetime. Give me a fish in the form of fingers and I'll eat for a lunchtime."
"As soon as man could sit on a floating log without falling off, he became a seafarer."
"Some men, ordinary men just like you, have just done something you've been promising to do for several centuries. They put up some shelves."
"Wasps, I'm afraid, are one of the creator's errors, along with Belgium."
• Speaking of Belgium, that's where Top Gear Live was last Sunday, performing at Antwerp's Sportpaleis. That was after Saturday's show in Amsterdam.
The Dutch language papers of Holland and Belgium took note of the festivities. We're a little rusty with our Dutch, but thanks to Google Translate we were amused by what they had to say, even if we couldn't exactly understand it.
For example, Belgium's Nieuwslad wrote this: "Niets wat een knappe vrouw met vlammenwerpers niet geklaard krijgt, moet de crew hebben gedacht. Dat ze de vlam in twee Porsches mocht zetten, was een mooie bonus. Ook The Stig, de anonieme testpiloot die de presentatoren trouw bijstaat, had het publiek meteen op zijn hand."
Or, in Google Dutch to English: "Nothing gets a handsome woman with flamethrowers not done, the crew must have thought. She could put the flame in two Porsches was a nice bonus. Also, The Stig, the anonymous test pilot who assists the presenters faith, had the audience immediately on his hand."
And of course, videos are worth a thousand words. Especially when Jeremy attempts to "donut the stage":
And it wouldn't be Top Gear Live without curling:
• Here's your chance to help out TopGear.com, or as they put it, "Be Jeremy Clarkson for a day! Sort of." TopGear.com editors are looking for people with cars like the ones in the Top Gear magazine garage. In all, they're looking for people who have personal stories to tell about 14 different models of cars, including the Ford Fiesta ST, the Mazda CX-5 and the Range Rover. Take a look at the complete list and details about how to get in touch with TopGear.com right here.
• "What Are The Guys From Top Gear USA Doing In New York City?" asked Jalopnik in a headline this week. One of the auto website's readers thinks he spotted the American hosts driving sports cars in Columbus Circle and even snapped a photo.
According to Jalopnik, the reader, named Thomas, says "he's '80 percent sure' that it's the trio from Top Gear USA, since he thinks he saw Adam [Ferrara] behind the wheel of the Viper."
Read More
Filed Under: