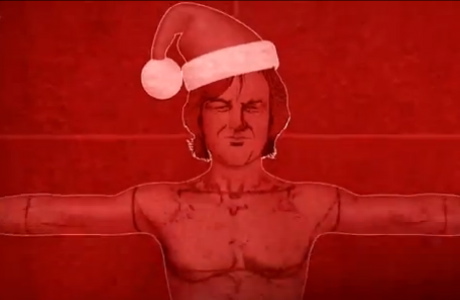 It may not be Christmas in July for James May, but it's Christmas in *May* for James May's Man Lab.
(Just how many times can we use the word "May" in one sentence, anyway?)
The show's Christmas special airs next week, on Monday, May 13, at 10p/9c.
In it, James is joined by trusty sidekick Oz Clarke to do all sorts of Christmasy-type things. Like trying to make it snow. (Which would be a neat trick in, say… May!) And here's how they try to do that one: they give Oz a saltshaker and send him up in a plane in an attempt to see whether cloud seeding really works.
But the empirical experiment meets an obstacle, namely the plane door, before Oz even leaves the ground:
Meanwhile back on the ground, James invents a blunderbuss gun to decorate a Christmas tree, and in the finest tradition of Top Gear, explodes a Christmas tree, with multiple cameras, of course, so no angle is unmissed:
• Speaking of the snow, cold and the winter, TopGear.com has run a video update from The Coldest Journey expedition. They're the team that is attempting to be the first people ever to cross the entire continent of Antarctica in the winter, a trip of more than 2,000 miles. They're using bulldozers to help set up temporary camps as they slog through the bitter cold. In this video, team members talk about how they're going to get across a patch of "blue ice" that has many treacherous crevasses. We think you'll feel cold just looking at it:
• Turning to more temperate climates, Richard Hammond says he's really looking forward to next month's Top Gear Live event in South Africa.
He says he regards the country as his "second home."
Top Gear Live will return to Durban on June 15 and 16. The event was held there last summer, when the team broke a world record by staging a double loop-the-loop.
Hammond says he's contemplating a climb on the famed big swing in the Moses Mabhida Stadium where Top Gear Live is held, but he admits he's petrified.
"I'm not brilliant with heights," he told the motoring section of South Africa's Independent Online. "The last time I was there I thought about trying out the swing at the stadium but decided not to… it's scary."
• The hosts of the American version of Top Gear also get around. Last week, a Jalopnik reader snapped photos that appeared to show the triumvirate in New York City's Columbus Circle, driving impressive red sports cars.
This week, Vox Talk, a magazine and website in mid-Missouri, captured some photos of host Tanner Foust driving a McLaren MP4-12C Spider in the city of Columbia, the home of the University of Missouri.
Despite very rainy weather, the website said that the bright orange McLaren was "magnificent enough to make it seem like a sunny day again."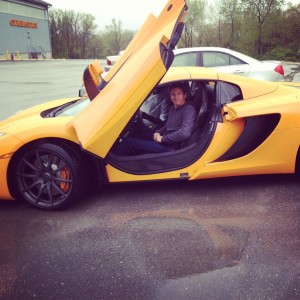 • First it was microbreweries. Then came micro-lending. Now, apparently, it's micro car videos. A few weeks back, TopGear.com pointed out one video that substituted mini-cars for the real ones in a parody of the trailer for Fast & Furious 6.
This week, they've pointed out another micro car chase, called Micro Mayhem! Produced by Stoopid Buddy Stoodios, it was all shot in stop-motion animation, and, as TopGear.com noted, they even made "teeny little" camera rigs, which you'll see at the end of the video. If they gave out awards for micro car videos (perhaps they already do, and if they don't, they probably will), this one should have a lock on the best animation and visual effects categories.
And don't worry, no clay deer were harmed in the making of this video:
Read More
Filed Under: