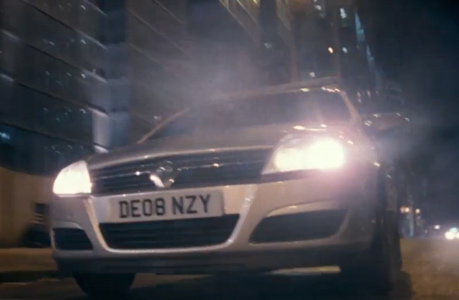 We don't usually associate the city of London with car chases, but that may change with the release of Fast & Furious 6 this week.
The Vin Diesel/Dwayne "The Rock" Johnson vehicle contains several high-octane (is there any other kind?) car chases in London.
Here's a clip of one of them, featuring Diesel's Dom and Michelle Rodriguez's Letty. As the blonde chick in the black leather bra says in the clip: "This is London, baby!"
In fact, much of the movie was filmed in the U.K., at the famed Shepperton Studios in Surrey, with lots of London locations.
"I thought we would be shooting in the middle of London," Rodriguez told the Daily Mail, "and we would have like big double decker buses and stuff, we'd be dodging mini cars. But I guess you guys in England don't let us explode stuff in London streets!"
Which probably explains why the movie used some other locations like Liverpool and Glasgow as stand-ins for London during certain scenes.
Or maybe it has something to do with London's system of congestion pricing.
Still, even though there would appear to be fewer movie car chases set in England's capital than in, say, Los Angeles, New York or even San Francisco, London has seen its share of motoring movie mayhem, and, on the release of the newest Fast & the Furious, we here at Anglophenia thought we'd take a look at some examples, presented here in reverse chronological order:
The Sweeney (2012)
Last year's movie version of the seventies British TV cop show starred Ray Winstone as a leader of a London police division who's not known for his respect for rules or procedure. And, for all you sticklers out there, yes, the chase is outside London, but it's still all about London police:
Of course, there's also a big-time connection between The Sweeney and Top Gear. As you may already know, members of the Top Gear crew worked on the car chase scenes in the movie.
And producers of the movie also invited Top Gear presenters Jeremy Clarkson and Richard Hammond to lend their expertise. You may have seen the results on the last season of the show:
In part two of the segment, you'll see not only Jeremy and Richard's Top Gear cut but also the final version of the chase as it appeared in The Sweeney:
National Treasure: Book of Secrets (2007)
In this sequel to 2004's National Treasure, Nicholas Cage's quest to find 18 missing pages from John Wilkes Booth's diary takes him to London where he is pursued by bad guy Ed Harris. The film's producers claimed at the time that the sequence "might be the biggest and most elaborate car chase scene ever shot on the streets of London."
"We knew how logistically challenging it would be to film in London," said producer/unit production manager Barry Waldman, "and at one point even considered other countries in Europe which we could double for London and make it a little easier."
But in the end, they decided to shoot in London.
The Mummy Returns (2001)
Okay, so this one is a bus chase. Brendan Fraser and Rachel Weisz are pursued by mummies who end up in London.
Trivia note: Dwayne Johnson, who plays a cop in Fast & Furious 6, played the role of the Scorpion King in The Mummy Returns. The character was popular enough that he got his own movie named after him in 2002.
Brannigan (1975)
John Wayne played an American detective in London in this '70s cop thriller, which also starred Richard Attenborough. The Duke seems to do pretty well with right-hand drive.
http://youtu.be/y_CG4GA2pqc
The Sweeney – TV series (1975)
In case you were wondering about the original television series that inspired 2012 movie at the top of this list, here's an example of some pretty elaborate car chase choreography for TV, complete with a '70s Evel Knievel reference:
Robbery (1967)
This thriller, very loosely based on the famous 1963 Great Train Robbery, starred Stanley Baker, but you may be more familiar with the stars who were nearly in the movie. Vanessa Redgrave turned down a role in the film. Three days worth of scenes with Jason Robards were shot in the U.S., but the footage was never used. George Raft was hired as well, but was labeled an "undesirable" by the U.K.'s Home Office and banned from entering the country because of his connection with a gambling casino known as "George Raft's Colony Club."
The movie holds a significant place in the history of car chase films. A young Steve McQueen was so impressed by what he saw that he hired the director, Peter Yates, to make the now-classic Bullitt, the gold standard by which all car chase movies are judged.
——————————————————–
Have we overlooked any great British car chase movies?
——————————————————-–
Read More
Filed Under: