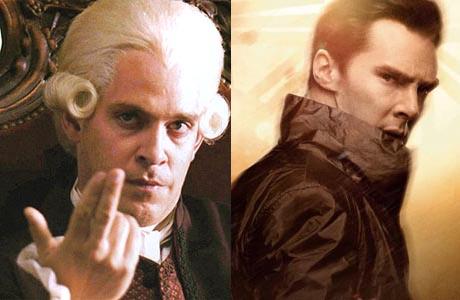 There isn't an exact science in determining what makes a Hollywood villain but both Sherlock's Benedict Cumberbatch and Pirate of the Caribbean's Tom Hollander have recently chimed in on the debate over whether or not Brits are being typecast as "baddies", reports The Telegraph.
Cumberbatch recently talked to Absolute Radio about playing a villain in Star Trek Into Darkness, saying, "We sound our consonants a lot more which usually means intelligence and thoughts and manipulation – the colder edge of reason – rather than emotion which is vowels, which is American."
Tom Hollander, who played miscreant Lord Cutler Beckett in Pirates of the Caribbean, was at a screening for his forthcoming film Byzantium and had a response to Cumberbatch's theory, telling The Telegraph, "With respect to Ben, it's because we are seen in America as baddies as a nation. It's because we were their oppressors once, and they had to fight us off, so the sound of our voices brings all that back and they hear evil."
Hmm, that's one theory. Maybe Hollander is upset that he gets eaten by a vampire in Byzantium and is taking it out on casting directors?
What are your thoughts on it? Is it so bad being a bad guy? 
Read More
Filed Under: