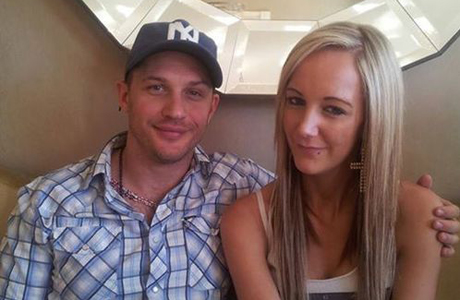 In a news cycle that has seen former child stars flinging bongs out of thirty-story windows and barreling through residential neighborhoods at 100 mph, here's a beautiful example of celebrity kindness: when 23-year-old Kayleigh Duff appeared on the British chat show This Morning to discuss her battle with a rare and terminal form of liver cancer, she mentioned that one of her life wishes was a date with English actor Tom Hardy, star of Inception, The Dark Knight Rises and countless British dramas.
The sister of Hardy's fiancee Charlotte Riley saw the interview and reached out to the show. Duff's friend Katie Birch and Charlotte arranged for Hardy to spend some time with the young mother-of-one: "I nearly died when I saw him," Duff told the Canterbury Times.
"I was shaking — I just thought we were having a day out in London." She added that "he was so lovely and down to earth. We had lunch and tea and scones and he bought me a diamond necklace."
Birch tweeted this photo of the pair's day out.
Amazing day with Tom Hardy so down to earth amazing guy plus Charlotte is one amazing lady!! pic.twitter.com/mygYoGYPrV

— Lady KTB (@LadyKTB) May 27, 2013
Duff's story has drawn major national interest in the U.K., with her friend Katie also granting her wish for an elaborate dream wedding. (A male model was even hired as a stand-in for the groom.) Here's the story via BBC NEWS:
Read More
Filed Under: