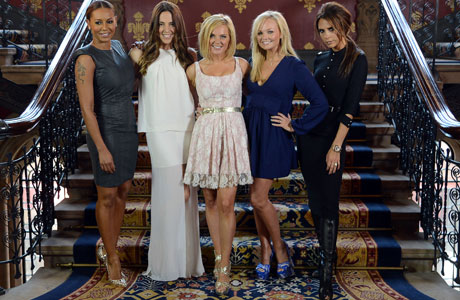 The Spice Girls musical, Viva Forever, which was written by Jennifer Saunders and featured all of the big Spice songs (and some of the smaller ones) is set to close after a seven month run, with Daily Mail–reported debts of £5 million.
The show was slightly hamstrung with a poor critical response, and had to have a mid-run revamp, but that never stopped the Queen musical We Will Rock You – still going strong after eleven years and a ton of waspish reviews. It seems the big problem is that very few people came out of Viva Forever telling their friends they simply must go and see it.
This might be why:
http://www.youtube.com/watch?v=9qR2InKsgqc
See those poor singers? See how much they are straining to impart weight and narrative to those pop song lyrics? Hear the creaking noises as the songs start to buckle and flex under the unreasonable stress? That's the problem.
Never mind that in order to write story based on Spice Girls songs Jennifer Saunders had to basically tell the story of a singer in a Spice Girls-type band, never mind that a musical about becoming a famous singer is perhaps not as thrilling as one based on, say, a huge historical event. The problem is amazing pop songs don't automatically become amazing stage musical songs just because they are sung on a West End stage.
Not that I'm dismissing the Spice Girls songs. In many ways the other problem of Viva Forever is that the music of the Spice Girls remains wedded to the actual Spice Girls, in the late '90s. Listening to someone else singing "Viva Forever" without Melanie C or Emma Bunton's voices is as jolting an experience as any of those Beatles tribute bands doing the rounds. It's relatively easy to re-create the music, practically impossible to make the voices work in quite the right way.
And why should pop songs be expected to work as part of a wider narrative? They're a frozen moment in time, a stopped clock whose hands ground to a halt in the middle of an emotional event. They're often about feeling a bit randy, or feeling a bit sad, or feeling a bit angry, and they're rarely particularly specific because they're supposed to be universal, and yet due to pop's transient nature, they become signifiers of the world into which they first emerged. Pop songs define their time.
Stage musical songs do a different job, they're there to illustrate the inner monologue of the characters on stage, and often wilt in power if you take them out of that context. They can do this in any number of ways, but an audience has to believe they're hearing that character express their specific emotions, about a specific event, through music.  When you use a pop song to do that, it's like trying on Geri Halliwell's stack-heeled shoes: a perfect fit, or a bloody nose and scraped forehead waiting to happen.
So, well done the Spice Girls for giving it a go. Well done for lasting as long as you did. But don't let anyone tell you the problem is your songs weren't good enough. They were simply too good at one job to be of much use at the other.
Read More
Filed Under: