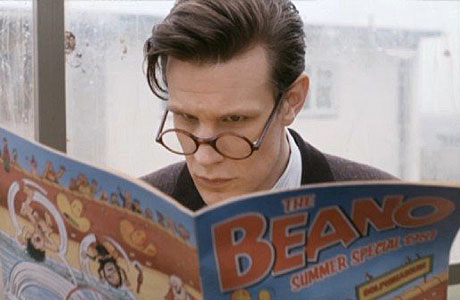 A curious thing happened at my house on Monday.
My son subscribes to the Beano, a long-standing institution of a comic (and definitely not a comic book) that I used to read when I was a kid, and my dad used to read before me. It's a knockabout, vaguely anarchic affair, full of characters that behave badly and get away with it, like (the British, superior) Dennis the Menace and Gnasher, his black cloud of a dog: not to mention Roger the Dodger, Lord Snooty and his Pals and all sorts.
And as anyone who saw the beginning of the Doctor Who story "The Rings of Akhaten" probably remembers, the Doctor reads the Beano too. Specifically the Beano Summer Special from 1981, when Clara Oswin was little.
So, you'd imagine nothing strange about a delivery of a comic through a letterbox with the morning post. That's sort of how it works, isn't it? Well no. As subscribers, we don't get the Beano on a Monday, we get it on a Saturday, and indeed we HAD got our usual copy over the weekend. So what was this? Why is a cartoon version of the Doctor – looking more than a little anteatery – leaning out of the O of Beano, and why does it appear to show Dennis hoicking a Dalek over a fence towards an unwary policeman?
It turns out this is a special Doctor Who edition of the comic, brought out as one of as series of specials to commemorate the 75th anniversary of the comic (it's all significant birthdays in the UK this year). And as you can see from the cover, DC Thompson, The Beano's publishers, have reprinted that 1981 summer special as a free giveaway too.
Mike Stirling, Editor-in-Chief, told the Radio Times: "Everyone at The Beano was delighted to see one of our summer specials appear on Doctor Who. We're big fans of the show, and so are our readers – who haven't stopped talking about it.
"We decided to travel back in time and get a copy of the 1981 summer special, which we've reprinted inside the latest issue – in time for the last episode of the season. We're all really excited about this issue."
"We're giving every child the opportunity to travel back in time – just like the Doctor." 
Did I mention our dog is called Gnasher, just like Dennis's? Oh yes, Monday was a BIG day in our house.
Read More
Filed Under: