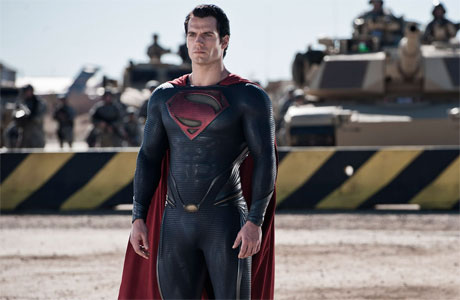 Things that go boom are very impressive, aren't they? Especially when you line them up in quick succession, one after the other. It's like being hit in the face with a sockful of sand over and over and over again. BOOM! BOOM! BOOM!
Whatever else you may say about the experience, the people doing the booming have got your attention. That's what they want.
This is the new trailer for Man of Steel, the forthcoming Superman movie in which Henry Cavill sorts out his multiple personality disorder by getting seriously into cosplay, and scores a hot girlfriend called Lois Lane, played by Amy Adams.
Actually, there are other strands to the story that I may have left out there. What's interesting about this trailer is that it follows the trend set by the (many, many) Star Trek Into Darkness previews, the ones that focussed hard on Benedict Cumberbatch's John Harrison, the epitome of the sneering British baddy. We're getting a rogues-eye view of the situation, to show how dark things can get for our heroes:
Of course, Benedict brings his own boom. Or is it more of a rumble?
Read More
Filed Under: