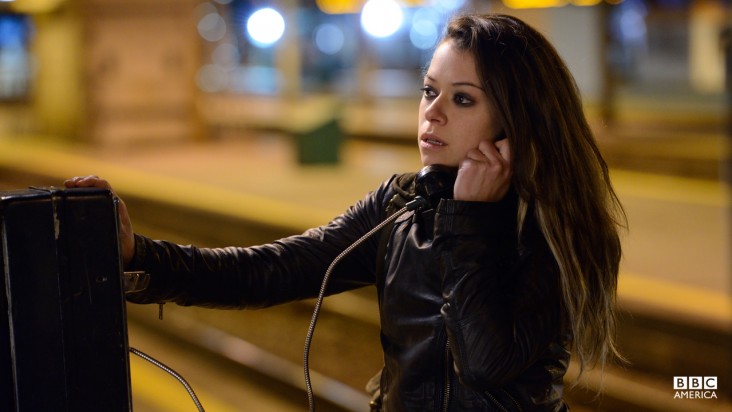 The Broadcast Television Journalists' Association have announced their Critics' Choice Award nominations today, and BBC AMERICA scored five nominations. Tatiana Maslany received a nod in the Best Actress in a Drama category for her roles — yes, roles — on the channel's original drama Orphan Black. On the sci-fi thriller series, the Canadian-born star plays Sarah, a British orphan, who discovered she's one of many clones, all of whom have strikingly different personalities, appearances and accents. She's nominated in the same category as Claire Danes (Homeland), Julianna Margulies (The Good Wife), Elisabeth Moss (Mad Men), Keri Russell (The Americans), and Vera Farmiga (Bates Motel), and comes in ahead of such absent favorites as Kerry Washington (Scandal), Robin Wright (House of Cards) and Brit Michelle Dockery (Downton Abbey).
Also, BBC AMERICA's The Hour and leads Dominic West and Romola Garai scored nods in the Miniseries categories, totaling three nominations for the farewell installment of the drama, and Wild Things with Dominic Monaghan took a spot in a Best Reality Series field. Surveying Britishness beyond the channel, Downton Abbey earned a Best Drama Series nomination, but none of its stars were invited to today's party. And you'd be correct in noticing there's no Dame Maggie Smith. Gasp, I know. This was a notoriously uneven third season for the popular 1920s-set primetime soap, but it's surprising that the solid actors were punished and not the show itself.
Meanwhile, The Walking Dead's Andrew Lincoln, The Americans' Matthew Rhys, and Homeland's Damian Lewis spar in the Best Drama Actor category to see which Brit does the best U.S. accent (while Rhys does one better, playing a Russian posing as an American). And Emilia Clarke breaks in for Best Supporting Actress in a Drama for Game of Thrones. (Dame Diana Rigg, who recently appeared as a terrible, terrible woman on Doctor Who, has a Guest Performer nomination for Thrones. At least that's one Dame nominated.)
Cumberbatch fans, you won't be disappointed: he's nominated for Best Actor in a Movie or Miniseries for HBO's Parade's End, competing against fellow Brits Dominic West and Toby Jones (The Girl). Cumberbatch's Parade's End co-star Rebecca Hall is up for Best Actress in a Movie or Miniseries against The Hour's Garai. Actor-director Peter Mullan is nominated for Best Supporting Actor in a Miniseries for Sundance's BBC co-pro Top of the Lake. And the Supporting Actress in a Movie or Miniseries group contains two Brits, The Girl's Sienna Miller and Imelda Staunton. And major kudos to Cat Deeley (So You Think You Can Dance) and Gordon Ramsay (Hell's Kitchen and Masterchef), two BBC AMERICANS who are flying the Union flag high in the Best Reality Host category.
And no Sherlock wasn't snubbed: it just wasn't on this season. But watch out 2013-14 (or 2014-15, depending on where it airs in the calendar year). Winners are announced June 10 and will be streamed live.
Full list of nominations:
BEST COMEDY SERIES
·      The Big Bang Theory – CBS
·      Louie – FX
·      The Middle – ABC
·      New Girl – FOX
·      Parks and Recreation – NBC
·      Veep – HBO
BEST ACTOR IN A COMEDY SERIES
·      Don Cheadle (House of Lies) – Showtime
·      Louis C.K. (Louie) – FX
·      Jake Johnson (New Girl) – FOX
·      Jim Parsons (The Big Bang Theory) – CBS
·      Adam Scott (Parks and Recreation) – NBC
·      Jeremy Sisto (Suburgatory) – ABC
BEST ACTRESS IN A COMEDY SERIES 
·      Laura Dern (Enlightened) – HBO
·      Zooey Deschanel (New Girl) – FOX
·      Lena Dunham (Girls) – HBO
·      Sutton Foster (Bunheads) – ABC Family
·      Julia Louis-Dreyfus (Veep) – HBO
·      Amy Poehler (Parks and Recreation) – NBC
BEST SUPPORTING ACTOR IN A COMEDY SERIES
·      Max Greenfield (New Girl) – FOX
·      Simon Helberg (The Big Bang Theory) – CBS
·      Alex Karpovsky (Girls) – HBO
·      Adam Pally (Happy Endings) – ABC
·      Chris Pratt (Parks and Recreation) – NBC
·      Danny Pudi (Community) – NBC
BEST SUPPORTING ACTRESS IN A COMEDY 
·      Carly Chaikin (Suburgatory) – ABC
·      Kaley Cuoco (The Big Bang Theory) – CBS
·      Sarah Hyland (Modern Family) – ABC
·      Melissa Rauch (The Big Bang Theory) – CBS
·      Eden Sher (The Middle) – ABC
·      Casey Wilson (Happy Endings) – ABC
BEST GUEST PERFORMER IN A COMEDY SERIES  
·      Melissa Leo (Louie) – FX
·      David Lynch (Louie) – FX
·      Bob Newhart (The Big Bang Theory) – CBS
·      Patton Oswalt (Parks and Recreation) – NBC
·      Molly Shannon (Enlightened) – HBO
·      Patrick Wilson (Girls) – HBO
BEST DRAMA SERIES
·      The Americans – FX
·      Breaking Bad – AMC
·      Downton Abbey – PBS
·      Game of Thrones – HBO
·      The Good Wife – CBS
·      Homeland – Showtime
BEST ACTOR IN A DRAMA SERIES
·      Bryan Cranston (Breaking Bad) – AMC
·      Damian Lewis (Homeland) – Showtime
·      Andrew Lincoln (The Walking Dead) – AMC
·      Timothy Olyphant (Justified) – FX
·      Matthew Rhys (The Americans) – FX
·      Kevin Spacey (House of Cards) – Netflix
BEST ACTRESS IN A DRAMA SERIES
·      Claire Danes (Homeland) – Showtime
·      Vera Farmiga (Bates Motel) – A&E
·      Julianna Margulies (The Good Wife) – CBS
·      Tatiana Maslany (Orphan Black) – BBC America
·      Elisabeth Moss (Mad Men) – AMC
·      Keri Russell (The Americans) – FX
BEST SUPPORTING ACTOR IN A DRAMA SERIES
·      Jonathan Banks (Breaking Bad) – AMC
·      Nikolaj Coster-Waldau (Game of Thrones) – HBO
·      Michael Cudlitz (Southland) – TNT
·      Noah Emmerich (The Americans) – FX
·      Walton Goggins (Justified) – FX
·      Corey Stoll (House of Cards) – Netflix
BEST SUPPORTING ACTRESS IN A DRAMA SERIES
·      Jennifer Carpenter (Dexter) – Showtime
·      Emilia Clarke (Game of Thrones) – HBO
·      Anna Gunn (Breaking Bad) – AMC
·      Regina King (Southland) – TNT
·      Monica Potter (Parenthood) – NBC
·      Abigail Spencer (Rectify) – Sundance
BEST GUEST PERFORMER IN A DRAMA SERIES
·      Jim Beaver (Justified) – FX
·      Jane Fonda (The Newsroom) – HBO
·      Martha Plimpton (The Good Wife) – CBS
·      Carrie Preston (The Good Wife) – CBS
·      Diana Rigg (Game of Thrones) – HBO
·      Jimmy Smits (Sons of Anarchy) – FX
BEST MOVIE OR MINI-SERIES
·      American Horror Story: Asylum – FX
·      Behind the Candelabra – HBO
·      The Crimson Petal and the White – Encore
·      The Hour – BBC America
·      Political Animals – USA
·      Top of the Lake – Sundance
BEST ACTOR IN A MOVIE OR MINI-SERIES
·      Benedict Cumberbatch (Parade's End) – HBO
·      Matt Damon (Behind the Candelabra) – HBO
·      Michael Douglas (Behind the Candelabra) – HBO
·      Toby Jones (The Girl) – HBO
·      Al Pacino (Phil Spector) – HBO
·      Dominic West (The Hour) – BBC America
BEST ACTRESS IN A MOVIE OR MINI-SERIES
·      Angela Bassett (Betty & Coretta) – Lifetime
·      Romola Garai (The Hour) – BBC America
·      Rebecca Hall (Parade's End) – HBO
·      Jessica Lange (American Horror Story: Asylum) – FX
·      Elisabeth Moss (Top of the Lake) – Sundance
·      Sigourney Weaver (Political Animals) – USA
BEST SUPPORTING ACTOR IN A MOVIE OR MINI-SERIES
·      James Cromwell (American Horror Story: Asylum) – FX
·      Peter Mullan (Top of the Lake) – Sundance
·      Zachary Quinto (American Horror Story: Asylum) – FX
·      Sebastian Stan (Political Animals) – USA
·      David Wenham (Top of the Lake) – Sundance
·      Thomas M. Wright (Top of the Lake) – Sundance
BEST SUPPORTING ACTRESS IN A MOVIE OR MINI-SERIES
·      Ellen Burstyn (Political Animals) – USA
·      Sienna Miller (The Girl) – HBO
·      Sarah Paulson (American Horror Story: Asylum) – FX
·      Lily Rabe (American Horror Story: Asylum) – FX
·      Imelda Staunton (The Girl) – HBO
·      Alfre Woodard (Steel Magnolias) – Lifetime
Best Reality Series
·      Duck Dynasty – A&E
·      The Moment – USA
·      Pawn Stars – History Channel
·      Push Girls – Sundance
·      Small Town Security – AMC
·      Wild Things with Dominic Monaghan – BBC America
BEST REALITY SERIES – COMPETITION   
·      Chopped – Food Network
·      Face Off – Syfy
·      Shark Tank – ABC
·      So You Think You Can Dance – FOX
·      Survivor – CBS
·      The Voice – NBC
BEST REALITY HOST 
·      Tom Bergeron (Dancing With the Stars) – ABC
·      Cat Deeley (So You Think You Can Dance) – FOX
·      Gordon Ramsay (Hell's Kitchen/Masterchef) – FOX
·      RuPaul (RuPaul's Drag Race) – Logo
·      Ryan Seacrest (American Idol) – FOX
·      Kurt Warner (The Moment) – USA
BEST TALK SHOW
·      Conan – TBS
·      The Daily Show with Jon Stewart – Comedy Central
·      The Ellen DeGeneres Show – Warner Brothers Television Distribution
·      Jimmy Kimmel Live! – ABC
·      Late Night with Jimmy Fallon – NBC
·      Marie – Hallmark Channel
BEST ANIMATED SERIES
·      Adventure Time – Cartoon Network
·      Archer – FX
·      Phineas and Ferb – Disney Channel
·      Regular Show – Cartoon Network
·      The Simpsons – FOX
·      Star Wars: The Clone Wars – Cartoon Network
Read More
Filed Under: