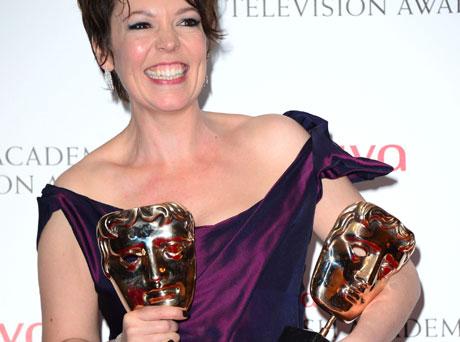 Last night's BAFTA TV awards ceremony was a most Anglopheniac spectacle indeed, with top prizes going to some of our favorite British talents. Olivia Colman, for example, (finally) won two awards, for entirely contrasting jobs. Supporting actress for her tear-stained role in the gang-battling drama Accused, and female comedy performer for Twenty Twelve.
Her first speech, for the former, is a thing of wonder and delight:
Then there was Ben Whishaw, who won leading actor for his performance of Richard II, in Sam Mendes's collection of Shakespeare history plays The Hollow Crown. And from the same production, Simon Russell-Beale's Falstaff won in the supporting actor category, specifically from Henry IV Part II.
Graham Norton, who hosted the event, also won a prize. The Graham Norton Show won in the entertainment category, because it's entertaining. Game Of Thrones won the Radio Times audience award, the only trophy to be voted on by viewers.
And, having posted Daleks on the red carpet, BAFTA paid tribute to 50 years of Doctor Who, with this clip collection, that features a beautiful little cameo twisty thing at the end:
And while we're looking at speeches, Sheridan Smith appeared to suddenly implode when she won the supporting actress trophy for her part in Mrs Briggs. Either her ghast was genuinely flabbered or she really IS that good an actress, cos this speech (with a little interview tacked on at the end) is something of a mess.
Note: BAFTA edited out the F-bomb:
Mind you, Olivia's second speech was every bit as frayed:
The full list of winners is as follows: 
Leading Actor
Ben Whishaw – Richard II (The Hollow Crown)
Leading Actress
Sheridan Smith – Mrs Biggs
Supporting Actor
Simon Russell Beale – Henry IV Part 2 (The Hollow Crown)
Supporting Actress
Olivia Colman – Accused (Mo's Story)
Entertainment Programme
Graham Norton for The Graham Norton Show
Entertainment Performance
Alan Carr – Alan Carr: Chatty Man
Female Performance in a Comedy Programme
Olivia Colman for Twenty Twelve
Male Performance in a Comedy Programme
Steve Coogan for Welcome To The Places Of My Life
Single Drama
Murder
Mini-Series
Room At The Top
Drama Series
Last Tango In Halifax
Soap and Continuing Drama
EastEnders
International
Girls
Factual Series
Our War
Specialist Factual
All In The Best Possible Taste with Grayson Perry
Single Documentary
7/7: One Day In London
Features
The Great British Bake Off
Reality and Constructed Factual
Made In Chelsea
Current Affairs
The Shame Of The Catholic Church (This World)
News Coverage
Hillsborough – The Truth At Last (Granada Reports)
Sport and Live Event
The London 2012 Paralympic Games
Comedy Programme
The Revolution Will Be Televised
Situation Comedy
Twenty Twelve
Radio Times Audience Award
Game of Thrones
Special award
Clare Balding
BAFTA Membership
Michael Palin
Read More
Filed Under: