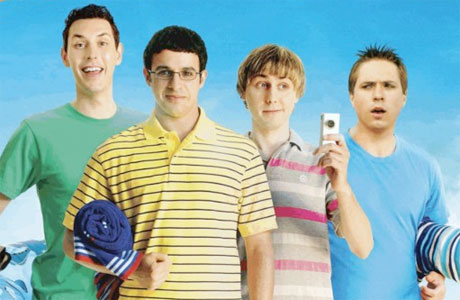 Gossip: it's rubbish isn't it? You just get to the point where you know for absolute certain that something is a certain way, and then along comes some gossip that suggests you're completely wrong. And worst of all, sometimes that gossip turns out to be true.
So, after months of tiresome rumour and counter-rumour about the state of play with a prospective second Inbetweeners movie, the hard facts are these: there probably will be one, and it'll probably involve Australia.
According to the official Inbetweeners Facebook page (as of yesterday), Simon Bird, Blake Harrison, Joe Thomas and James Buckley are all keen to do it, and even though the Sun appears to have slightly rattled the production team with their gossip-finding skills, they're happy to confirm a… well it's not quite definite… sort of… probable commitment.
The statement says:
"Facebook 'Fwends' – we told you you'd be the first to hear about Inbetweeners stuff, and althought that's still true The Sun went rifling and found some stuff out about a sequel. Nothing's signed yet, and Australia is just one of the ideas we're kicking around, but we hope to have a new and definitiely final film for you some time next year.
"We hope you miss us as much as we miss you."
*mutters* Miss you getting on with it, more like…
Read More
Filed Under: