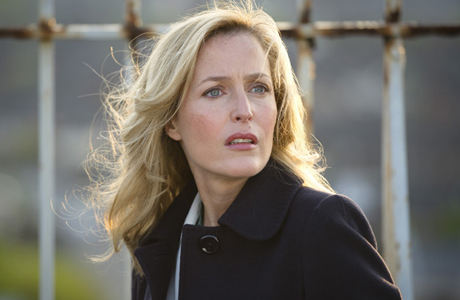 Make no mistake: we here at Anglophenia love that Netflix has resurrected Arrested Development, which is for all intents and purposes a Britcom in U.S. drag. But we're even more jazzed about today's news that Netflix is now streaming The Fall, the highly-rated BBC2 thriller starring Gillian Anderson (The X Files, Bleak House). In the five-part psychological drama, Anderson dusts off her British accent to play DS Stella Gibson, an officer on the trail of a serial killer (Jamie Dornan) in Belfast.
Here's the trailer, which has that Silence-meets-Prime Suspect mix of sexy and gruesome you'd expect from this sort of thing. (Note The Good Wife Emmy winner Archie Panjabi co-starring as a pathologist.)
The Fall has been a ratings bonanza for BBC2, reaching an average of 3.5 million weekly viewers since its May 13 U.K. premiere, the channel's biggest audience for a drama since 2008. The BBC has already announced a second season renewal. BBC drama controller Ben Stephenson says, "With more of Allan Cubitt's intricate and thrilling plot revelations yet to unfold through the captivating performances of Gillian and Jamie, a second series is a must," he said.
"Obviously we can't give too much away as the first series builds to a gripping cliff-hanger but what we can say is it will be as surprising and intense as the first."
Check out more British telly favorites streaming on Netflix and Hulu.
Are you watching The Fall? Tell us what you think below:
Read More
Filed Under: