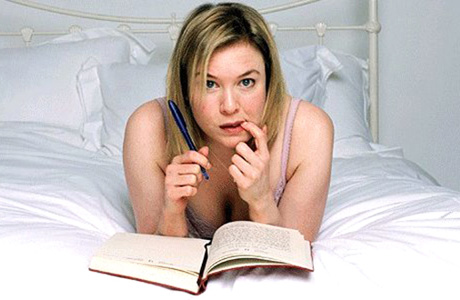 It was announced in February, 2013 that author Helen Fielding will write a third book revolving around the neurotic and unlucky in love Bridget Jones, which will be released in November, 2013.
Dun, da, da, dunnnn and the title is: Mad About the Boy. Fielding, as expected, was tightlipped over which boy the title is referring to. When asked for more details Fielding gave a coy look and told The Independent, "Bridget's life has moved on." Even so, she did confirm that her suitors, played by Colin Firth and Hugh Grant, will have a "presence" in the book. The story will be set in present day London with Jones having aged accordingly.
The first two books — Bridget Jones's Diary and Bridget Jones: The Edge of Reason — sold 15 million copies combined, spawning two successful movies both starring Renée Zellweger as Jones. This book follows a 14-year gap since the last installment was published.
Fielding explains the break as her simply becoming "self conscious" after the unexpected success. Fielding says she's found "a whole new idea for a phase of her life" involving social media like Twitter and Texting that she doesn't want to jinx by talking about too much.
There have been tidbits in the news over whether or not there will be a third movie based on a series of columns Fielding wrote for The Independent in 2005 and 2006. It may make sense at this point to wait for the arrival of the new book? But, that's just us. Baby steps, we suppose.
Here is an excerpt from the third installment:
Wednesday 24 October 2012
11.27 p.m. Just presss d SEND. Iss fineisn't it?
You see, this is the trouble with the modern world. If it was the days of letter-writing, I would never even have started to find his address, a pen, a piece of paper, an envelope, a stamp, and gone outside at 11.30p.m. to find a postbox. A text is gone at the brush of a fingertip, like a nuclear bomb or exocet missile.
DATING RULE NO:1
DO NOT TEXT WHEN DRUNK
Who do you think the "boy" is?
Read More
Filed Under: