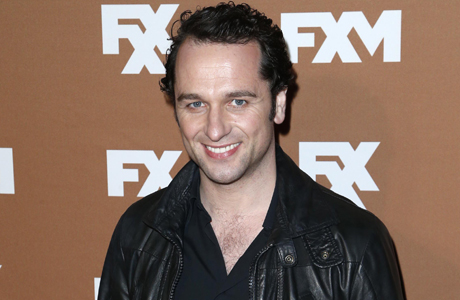 Will the real Mr. Darcy please step forward? Is it Colin Firth? Matthew Macfadyen? Laurence Olivier? Or Matthew Rhys?
The Welsh-born Rhys, best known for major roles on the American TV series Brothers & Sisters and, currently, The Americans, has just joined the ranks of hunksome actors playing Jane Austen's slightly priggish but ever popular heartthrob from Pride and Prejudice.
Not that there's going to be yet another remake of Pride and Prejudice. Rather, Rhys, 38, will portray Fitzwilliam Darcy in Death Comes to Pemberley, a just announced three-part series for BBC in the U.K.
Pemberley is based on a bestselling novel of the same name by veteran mystery author P.D. James. Her 2011 whodunit is a sequel to Austen's most famous work. In Pemberley, Darcy and wife Elizabeth, now wed for six years and the parents of two children, find themselves caught up in a murder investigation after a body turns up on the grounds of Pemberley, Darcy's ancestral home.
British actress Anna Maxwell Martin (Becoming Jane and The Bletchley Circle) will play Elizabeth. The series is set to begin filming in Yorkshire in June and is expected to air in England in late 2013. No word yet on an American airdate.
Rhys was quoted in The Telegraph and other outlets as saying that he knows he will inevitably face comparisons with his predecessors in the role, most notably Firth, who played Darcy in a popular and fondly remembered 1995 TV mini-series. "The beauty of Pemberley is that it is an entirely new and different Darcy six years on. (And also, I don't have to appear from a lake in a white shirt and breeches)," said Rhys, referring to the frequently shown Pride and Prejudice clip in which Firth, as Darcy, goes for a cooling dip on a hot summer's day.
Macfadyen played Darcy in the 2005 movie version and Olivier in a 1940 film.
It is not known who Rhys beat out for the role, but a Daily Mail story back in February speculated that the Darcy part would go to Downton Abbey's Dan Stevens. Other names mentioned then as possibilities included rising stars Tom Hiddleston, Eddie Redmayne and Matthew Goode. Goode actually did land a role in Pemberley, but as George Wickham, the charming louse who elopes with Elizabeth's youngest sister in Pride and Prejudice.
Do you think Matthew Rhys will make an appealing Mr. Darcy?
Read More
Filed Under: